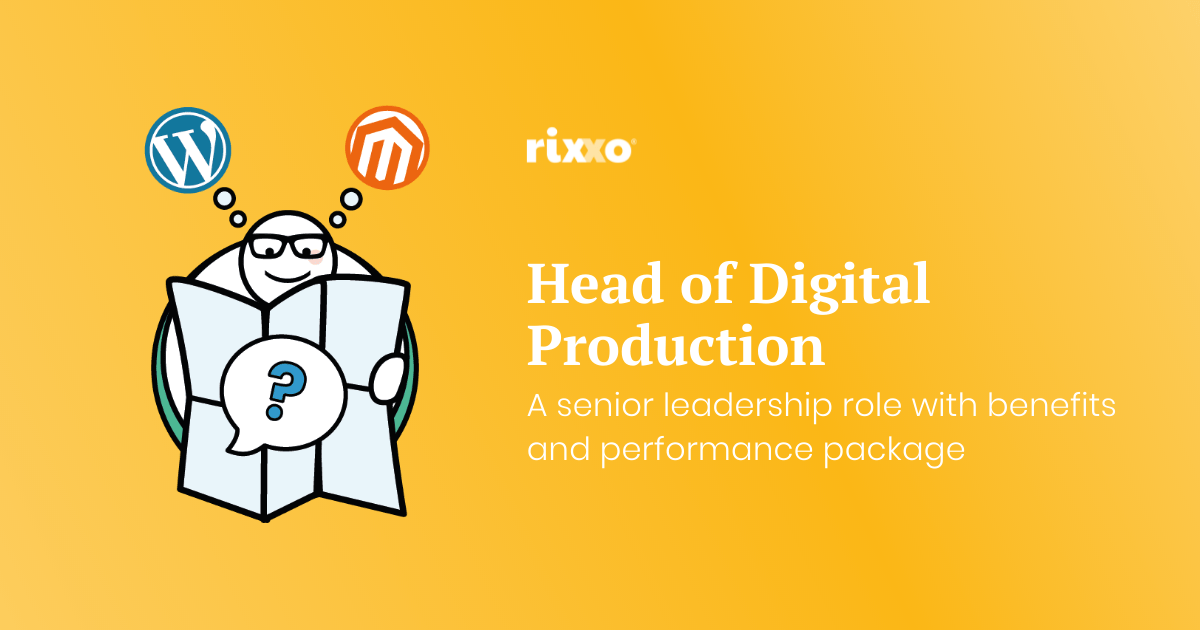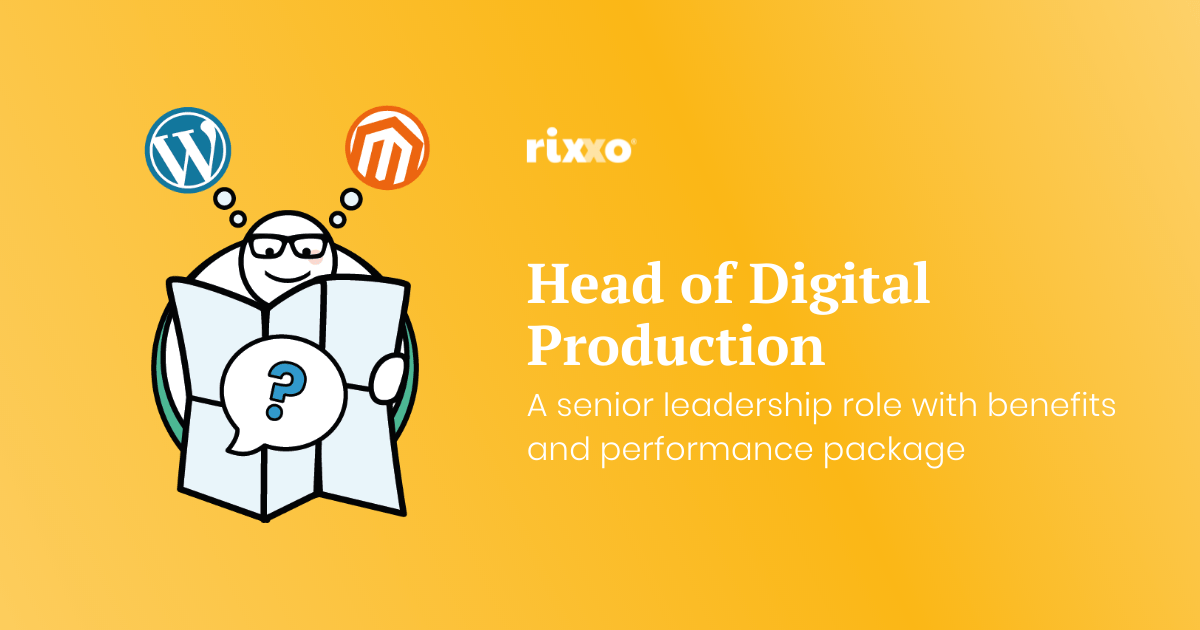 Head of Digital Production
£65k – £75k DOE
Plus Performance Bonus
Full Time
Home and or the office in Bristol
Immediate
Additional Christmas Paid Holiday
Personal Development Plan and Support
R&D time to work on new self-generated projects
Conference budgets at opportunities to speak at and attend events.
Personalised avatar and mug (cooler than it sounds)
Flexible and relaxed working
Rixxo is creating a rapid deployment blueprint of a B2B eCommerce system. Our mission is to be able to deploy a store with a little repetition of work as possible.  Why do the same things over and over again when we start our next development, immediately as good as the last?
Right now we're working on:
Lumarix  – A B2B eCommerce blueprint with fully atomic Figma mockups, CICD deployment and a growing list of custom functions and integrations
The ODB – A much better way to process back end telesales orders
Page Builder extensions to extend the default Magento Pagebuilder
Growing our client's businesses through strategic consulting
A new frontend framework (maybe PWA)
Lead generation B2B websites in addition to eCommerce builds
The Head of Digital Production is a senior management role. You will be responsible for significant aspects of the business and our success and growth will depend on your ability and passion.
The Directors will treat you as a partner affording you information, flexibility and trust that is required to do this role. That being said you are also the expert that they will lean on and should lead the Directors where appropriate to success. Being self-driven and a problem solver, with a "can-do" entrepreneurial spirit is vital. Your new development team are masters at turning business strategy and solutions into code and need your leadership to get it done on time and on budget.
As you will be such a critical leader within the business it is only fair that you are rewarded for success. There is a generous performance-based bonus for you and for your team that you control.
About the Head of Digital Production
Head of Digital Production role in detail
In addition, you will be responsible for
Owning the production process through to delivery.
This is to say you are involved in ensuring the scope of the sale will set the company up for success by working with the sales team
Ensuring only "good" projects get closed and enter the workflow
Take ownership of the entire delivery process
Reporting success and growth to the Senior Management team
Recruitment and selection of the engineering and production team decisions for your growing team
Write requirements and job descriptions
As this role progresses Rixxo are open to adding additional HR support For now the Office Manager can assist in finding new candidates
Software and tool selection used, and its training, for delivering products
Sourcing Freelancers and Contractors where appropriate
Leading and supporting the production team, in reference to both client work and personal development
Managing the support slot schedule and deciding on how much work can be done in each slot
Training the team on using resourcing tools and processes and creating job descriptions for owners in each project phase.
The Christmas shutdown period. Historically this period runs from Christmas Eve until the New Year and is given as an additional holiday bonus if all projects are complete and satisfied. This decision rests with the HoP as it will affect efficiency.
Managing the support teams time off, requirements alongside our HR Manager
Filling in when the PM team is short of resources
Peer and performance reviews of your team members
Working closely with Directors who do most of the selling and the Production team to manage production budgets in accordance with client and agency expectations
Meeting clients, listening to their needs and being trusted to deliver on brief and on time
Contributing towards new business pushes, including creating and participating in pitches for new clients
Keeping our team passionate about what we do, focused on customer service and delivering excellence
Fundamental KPIs
Delivery of projects "On Time"
Involved in estimating and setting a timeline
A proper record in Scope of date changes
Delivery of project "In Budget"
Involved in estimating and setting a timeline
Record keeping of scope and date changes
Delivery costs below billing to ensure profitability
The efficiency of delivery, creating a value proposition
Repeat work from existing clients
A great coordinator and people manager, you should have a pragmatic, problem-solving attitude and the ability to clearly articulate ideas and critique the work of the team to lead us to fulfil briefs and deliver an exceptional standard of work to each of our clients.
You'll be confident dealing with contacts at every level including presenting, project managing, and balancing day-to-day responsibilities of your team, with an additional strategic focus on promoting, developing, and extending the business of the agency, ensuring your department runs in the most efficient way.
Significant experience in managing the production of projects within an agency, with the ability to pull from that knowledge to guide & train staff.
Experience managing & motivating a team that enhances work relationships & encapsulates the company brand & values.
Personable, credible, & able to establish trust with team members.
The ability to oversee a team that will be working across multiple jobs at any one time, gaining an understanding of what's happening with each project.
Strong client management skills.
A high level of proficiency in directing projects & communicating with both internal staff & clients.
Extensive understanding of budgets, industry-standard rates & the relevant usage rights across all bought media & social channels.
Excellent contract negotiation skills & knowledge of competitor pricing.
The ability to help develop & implement new approaches to operational structures & company processes.
The ability to identify new business opportunities with proven success on pitches and proposals.
Demonstrate a real passion for the role.
Essential
Delivering complex projects
Managing delivery deadlines and developers
Change management
Desirable
Jira & Confluence
Experience with an eCommerce CMS such as Magento, Shopify, WooCommerce, OpenCart or others
Experience with content management systems such as WordPress, Joomla, Drupal or others
Other Benefits as a Head of Digital Production
Apart from being part of a passionate and supportive team, working with some of the best brands, you'll also receive some, all or more than the following benefits.
Additional Christmas Paid Holiday
Personal Development Plan and Support
R&D time to work on new self-generated projects
Daily Fika (Tea and Cake break with the team)
Monthly Social Activities
Conference budgets at opportunities to speak at and attend events.
Cycle to Work Scheme
Personalised avatar and mug (cooler than it sounds)
Team pension
Flexible and relaxed working
If this sounds like an opportunity for you or you have any questions, we would love to hear from you. Please send us your CV using the contact form or via hello@rixxo.com
And if you have a portfolio, Github, or website to show us, we would be keen to take a look, as it would give us a better idea of what you're all about.