How to Create Promotional Discounts in Magento & Adobe Commerce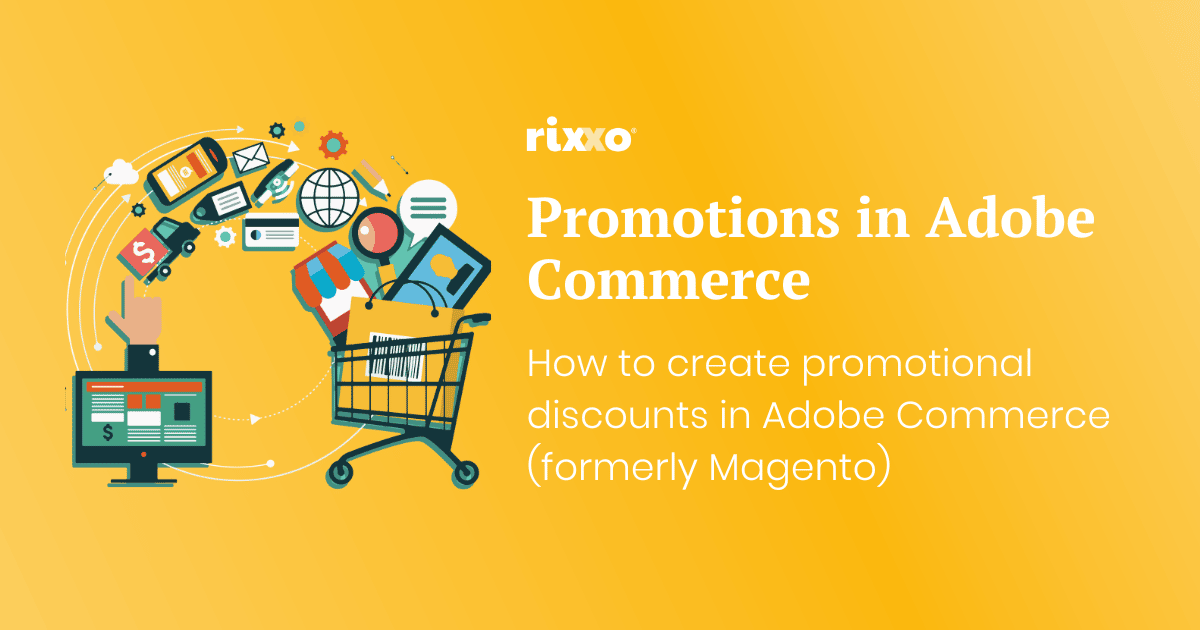 Whether online or on the high st, the use of promotional discounting to entice customers is a tried and tested method to boost sales. If you're reading this you probably have a store built with Adobe Commerce or Magento 2 and you're wondering how to correctly set up discounts for your store. Luckily there are multiple ways to achieve your goal in Adobe Commerce / Magento.
How to create voucher/coupon codes in Magento
Adobe Commerce comes fully equipped to create and manage voucher codes and promotions. Simply log in to admin, go to marketing and select the cart price rule. Click the "Add new rule" button, and you'll be met with a form to create your voucher code. Give it a name and description so you can easily identify it later. If you want to use it straight away set it to active. You can activate and deactivate these codes whenever you like.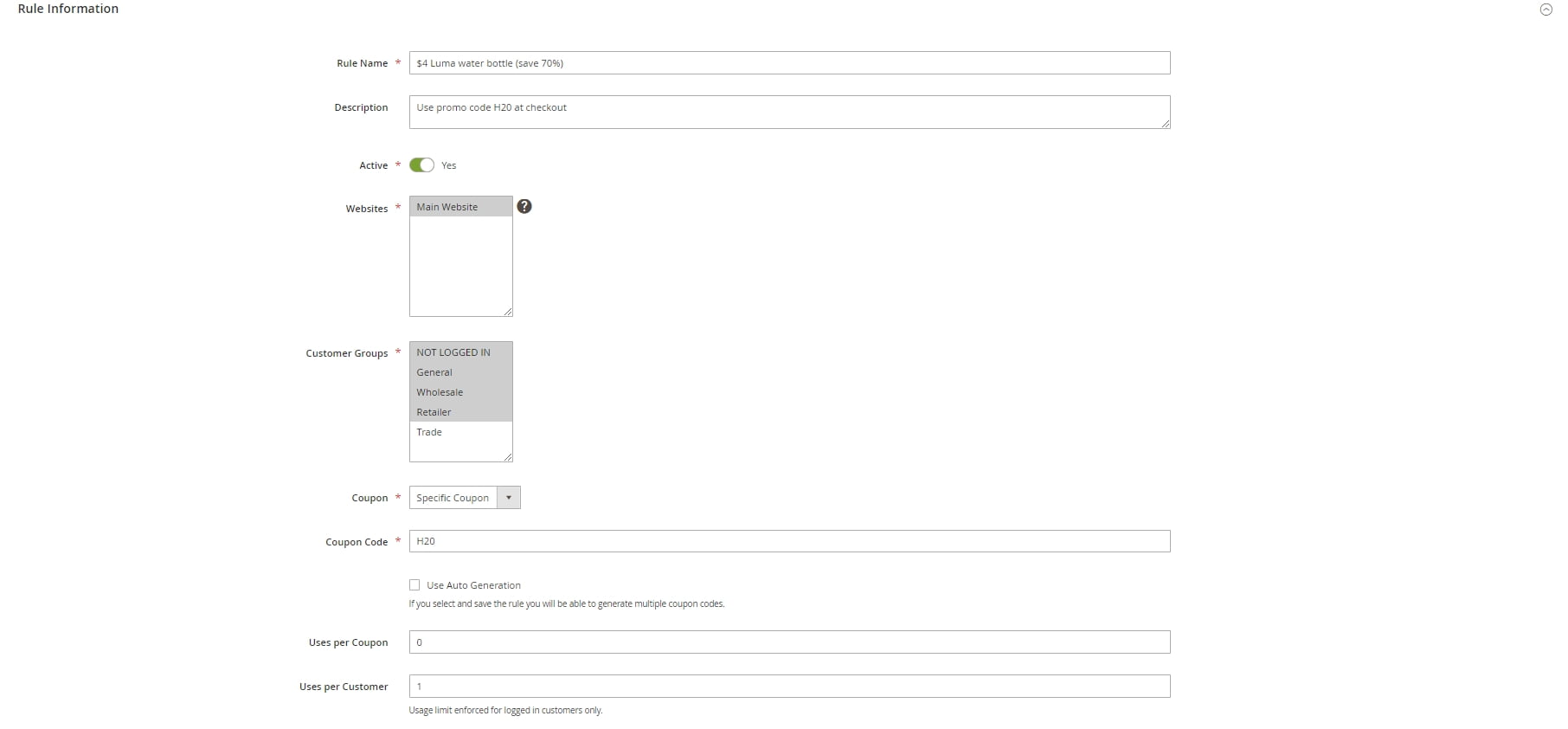 If you use multi-site, you can limit your vouchers by customer groups and websites.
In the coupon drop-down, click the specific coupon. You can specify a code, or let your site auto-generate it for you. You can make the voucher infinite use, specify a limited number of users per voucher or per customer, and even add expiry dates.
Other options include: discarding other rules applied (other discounts), a minimum/maximum quantity of products allowed to discount, applying the discount to shipping, and the ability to give free shipping.
You can manage multiple coupons from the manage coupon section.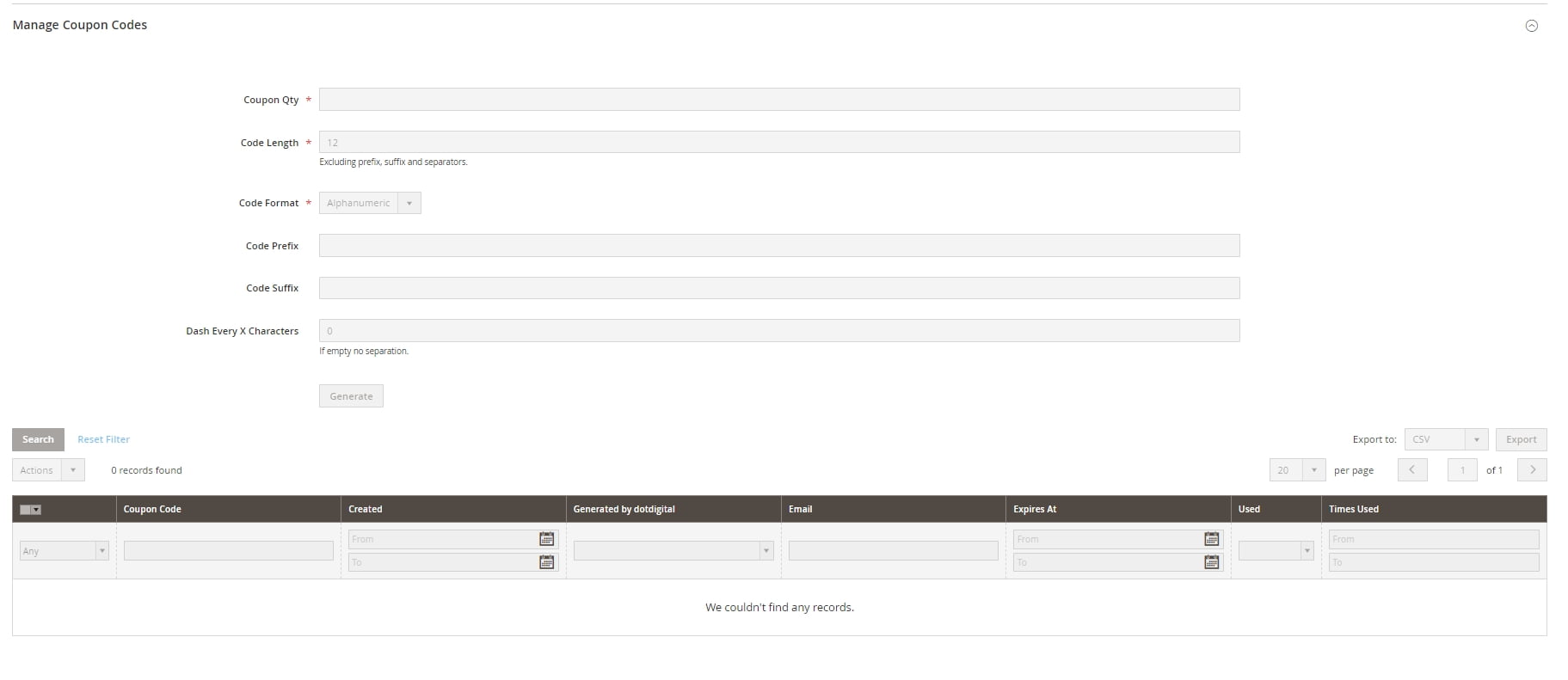 How to use cart rules in Magento
Using cart rules allows you to provide discounts and offers without the need for a voucher code. This will automatically apply the relevant discount to your customers' cart, provided they meet the requirements you have specified.
For example, your promotion is to buy a hat and coat together to receive a £10 discount.
The cart rule should be set to IF there is a product in the category hats and IF there is a product in the category coats, while the discount should be set to a flat rate of £10.
Then if you add a product from the category hat and a product from the category coat to your basket, it will automatically apply a 10-pound discount.

How to use catalogue price rules in Magento
The use of catalogue price rules allows you to set special pricing on items in the catalogue before added to the basket. You can specify specific items, products and time periods.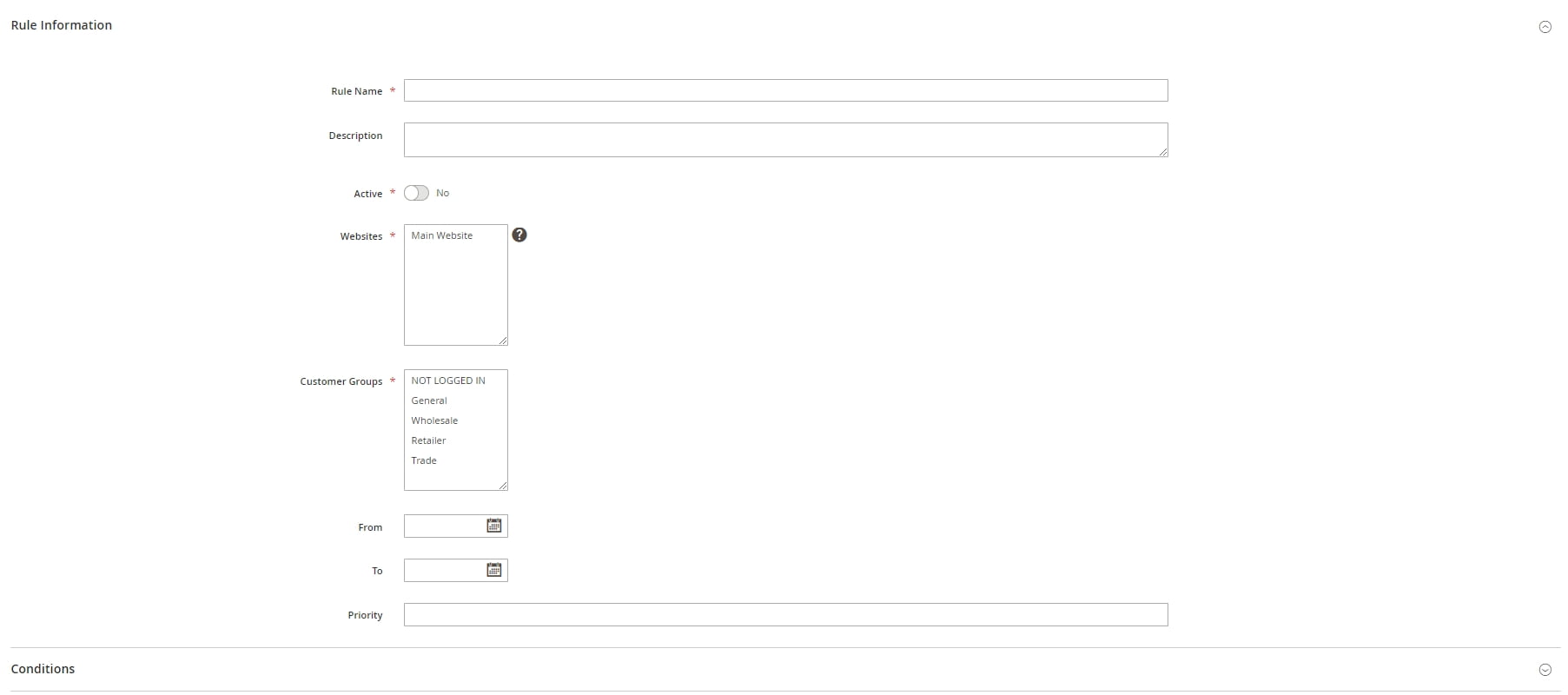 The rules can also apply to customer groups, which includes customers who are not logged in and will checkout as a guest.

In the image above is a catalogue rule that applies to all products in category 161, that have their new attribute set to yes. The actions of this rule apply a 20% discount to any product that meets the set conditions. Because "discard subsequent rules" is set to "yes", this will ignore any other discounts within the website. In the apply setting, you can give a percentage discount, a flat amount off the product (e.g £5 pounds off) or change the product price to whatever you specify.

This is the best way to apply a promotional sale for products and will display the original price and the discounted price to the user.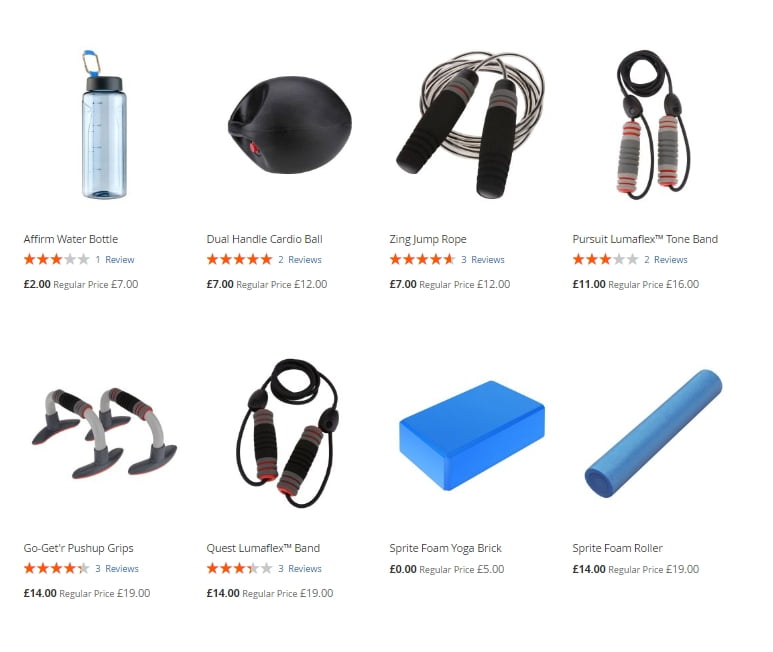 You can configure multiple rules and use "discard subsequent rules" and the "priority" setting to ensure that the correct discounts apply and you do not have discounts piling on top of one another. It is always worth testing your rules before applying them to make sure everything is set up correctly and there are no errors.
There are multiple methods to provide promotional discounts and offers in Magento to suit every scenario. Sale on certain items? Go with a catalogue price rule. Special offers on certain products and combinations? Go with a cart rule. Want to send out a promo and track the use of a discount? Go for a voucher code.
The key is to experiment and discover what works best for your business.
One of the best ways to get started right away is to tempt your existing customers back to your store with an email offer. In which case check out our FREE email marketing checklist, an 18 step guide to set you up for email campaign success.