At Rixxo, we believe in forging strong, lasting partnerships. The bedrock of these relationships? Trust.
Introducing Foundations™, our unique approach that prioritises transparency, understanding, and collaboration right from the outset.
A process that solves common issues
If you have had dramatically different prices in response to a brief, gone wildly over budget during a project, waiting months and months without progress or ended up with the completely unexpected....Foundations is for you.
Foundations™ attempts to solve and reduce these issues by using The Four Principles of Foundations.
Does this sound familiar?
Wildly different quotes?
Way over budget?
Late, with no communication?
Not what you expected?
If you do what you've always done, you'll get what you've always got.
Foundations™ solves common project issues.
Reveal true costs and return on investment
Teaching our clients a methodology to measure ROI of development is invaluable. Our existing clients continue to talk to us about Business Value, MoSCoW and Effort.
If you have struggled to get your head around why development costs what it does and if it is worth doing something then Foundations is for you.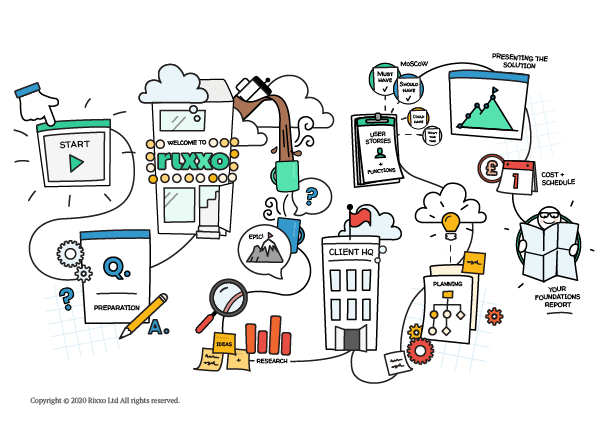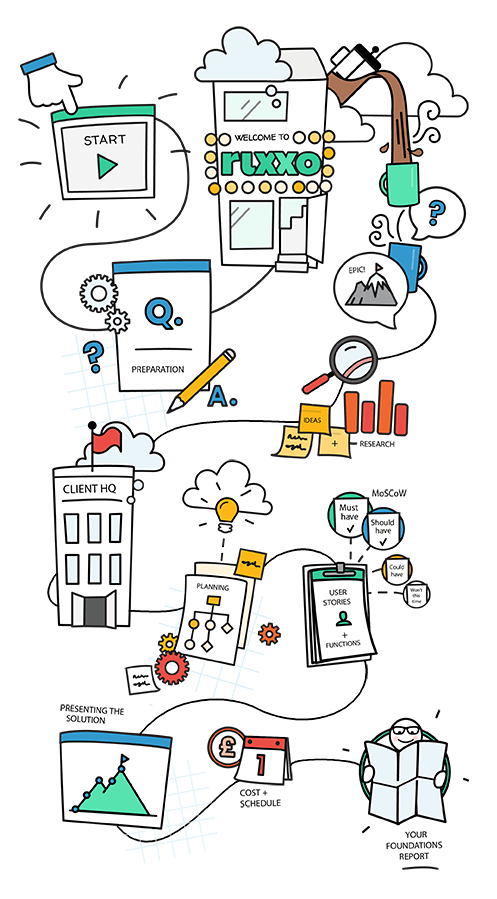 Foundations™: Preparing for success
Foundations is Rixxo's proven research and planning model that prepares a project for success. It was born of experience working with agencies, freelancers, internal teams and clients alike.
The key elements of Foundations™
Transparent communication
Right from the initial conversations, ensure that expectations are set correctly. Openness about the scope of work, potential challenges, and how they will be addressed creates a framework of honesty.
---
Collaborative planning
Including the client in the planning process not only makes them feel valued but also ensures that they understand the strategies and methodologies employed. This demystifies the process and reduces potential misunderstandings down the line.
---
Educative approach
Instead of shielding clients from the intricacies of a project, taking the time to educate them about it empowers them. This knowledge-sharing fosters trust and paints a picture of expertise and willingness to help.
---
Establish feedback loops
Regular check-ins and feedback sessions ensure that both parties are on the same page. It also provides an opportunity to address concerns before they escalate.
---
Navigate challenges with empathy
When unforeseen challenges arise, approach them with empathy and understanding. Remembering that both parties are working towards a common goal can help in addressing issues constructively.
---
Ongoing relationship nurturing
Trust-building doesn't stop once a project is completed. Continual interactions, updates, and support fortify the trust built during the project, paving the way for future collaborations.
Foundations™ emphasises the idea that trust isn't just a byproduct of doing business but is an integral part of the business process itself.
When trust is woven into the fabric of every interaction, difficult conversations become easier, and long-term partnerships become the norm.
A relationship built on solid Foundations™
Foundations™, as its name implies, focuses on laying down a robust foundation of trust, understanding, and clarity from the very first interaction. Instead of waiting for challenges to arise and then scrambling to maintain trust, this proactive method ensures that trust is already solidified, making any potential challenges easier to navigate.
These real-life instances perfectly capture the value of Foundations™
Each example emphasises the significance of beginning with thorough research, clear communication, and understanding before jumping into execution. Let's summarise these scenarios:
Issue:
The client believed a site rebuild would enhance sales.
Resolution with Foundations™:
After evaluating the client's current site traffic, it was realized that even a 100% conversion wouldn't justify the cost of replatforming. The actual challenge lay in the effectiveness of their marketing strategies.
Outcome:
By identifying the true problem, unnecessary costs were avoided, and efforts were redirected to the right areas.
Overlapping software systems
Issue:
A client intended to integrate two software platforms.
Resolution with Foundations™:
Through questioning and assessment, it was discovered that the client already had a system serving the same functions of the two proposed for integration. They simply lacked understanding of its use.
Outcome:
The client saved significant costs by maximizing the use of their existing system.
Issue:
A client requested an integration between their CRM and WordPress.
Resolution with Foundations™:
An MVP/proof of concept unveiled that their CRM was a security hazard, exposing a massive number of personal records online.
Outcome:
Instead of furthering an insecure platform, the recommendation shifted to a more secure and efficient CRM.
Issue:
During the design phase, a client expressed the necessity of animations.
Resolution with Foundations™:
Referring back to the EPIC set during Foundations™, it was established that the priority was simplicity in line with the rebrand.
Outcome:
Potential design creep was curbed. While animations were eventually incorporated, they were done in a later phase, ensuring the initial milestone was met efficiently.
These scenarios are a testament to the power of proactive planning and communication.
Foundations™ ensures that clients aren't just investing in a service, but in a partnership that prioritizes their best interests. This approach not only fortifies trust but also positions Rixxo as an ally, guiding businesses toward informed, beneficial decisions
The Foundations™ Timeline
Foundations™ is an exciting and challenging process but don't worry, we've done it many times and will guide you effortlessly through the whys, the hows, and the whens.
By taking the time at the start of a project to fully understand your business aims and ambitions, we can make solid recommendations and deliver features and functions that produce a return on investment.
Foundations™ Questionnaire
It all starts here
A quick a comprehensive questionnaire to get the juices flowing and the information we need over to us efficiently.
Who make decisions?
What's the bigger picture?
Are you running under a grant or R&D claim?
What assets to do you have to start with?
What do you expect of us?
A value of ours at Rixxo is "to treat every client business as our own, and every penny we ask to spend as if it were our own".  To do this effectively we ask for you to involve us as if one of your own team.
Download Now
At Rixxo HQ
Introductions
Understanding your business
Agree "The Epic"
Todays workshop is about getting to know the stakeholders requirements, ambitions and restrictions.
At the end of this day we will all agree on "The Epic" and how we will measure success.
Prove it!
After the initial Workshop our team will find answers to the questions and hypothesis posed or find supporting evidence for "The Epic"
It's important to ensure The Epic is S.M.A.R.T.
Interim Report & Feedback
Foundations Report Draft V1.1
At this stage your report template will have been defined. The headings and sections will be laid out to carry us through to completion.
The details of our progress so far is added and distributed through the team for clarity.
Speak up! It's important to all be on the same page before the next Workshop.
We review the interim report with your team on a call to ensure we are all on the same page before the second workshop.
At YOUR offices
Review the research
Talk about the solution
Learn MoSCoW and User Story techniques for next step
Workshop 2 begins to refine or define the final brief. We start to talk about functions and solutions that get us to The Epic within our available time frames and budgets.
Foundations is a collaborative process. The final report will contain the summary of our decisions, and most if not all of the following depending on the type of project being undertaken.
Demonstration of business understanding
Our recommendations
Prototype
Research
Competitor Analysis
Sitemap
Primary function user journey(s)
Wireframe example(s) of key content
System architecture diagram(s)
Design mockup(s)
Statement of Work (SOW)
The SOW is first expressed as a list of functions and features discussed during Foundations process.
A process for measuring R.O.I
Assign an effort value for the development
Assign a MoSCoW value
Assign a Business Value Score
Using these three metrics in a focused manner allows us to prioritise functions and features delivering the highest ROI in the first version and ensuring Focus on Business Requirements.
This process settles debates amongst stakeholders, delivers focus for a project team and provides a measure of success during and at the end of a project.
At this point, you will have a solid and considered development plan. We will have agreed how success will be achieved and measured, Your team and ours will be aligned and raring to go.
A Final Foundations Report
A Business Value scored Annex of Work items
A Schedule
Budget Options
Agreement
Time to begin building.
Begining your next project
After a successful planning phase it's important to carry on good processes. We employee several techniques, processes and strategies to deliver our projects On Time and In Budget.
Atomic Design Method:
Faster, smarter design
Atomic design is a methodology where design elements are made in stages starting with the smallest (Atoms) and grouping them together, just like chemical elements until they become much bigger (Pages).
The five stages of atomic design are:
Atoms
Molecules
Organisms
Templates
Pages
In web design the benefits of working in this way mean atoms, molecules and organisms can be used throughout the designs maintaining brand consistency, a reduced amount of code which makes your website faster, and importantly designing and editing site designs is considerably faster. We have seen almost a 50% reductions in website design time compared to our previous methodologies.
After your initial site-build, the atomic design process allows rapid prototyping of new pages, new components or the ability to quickly test out new styles, designs and user experience improvements.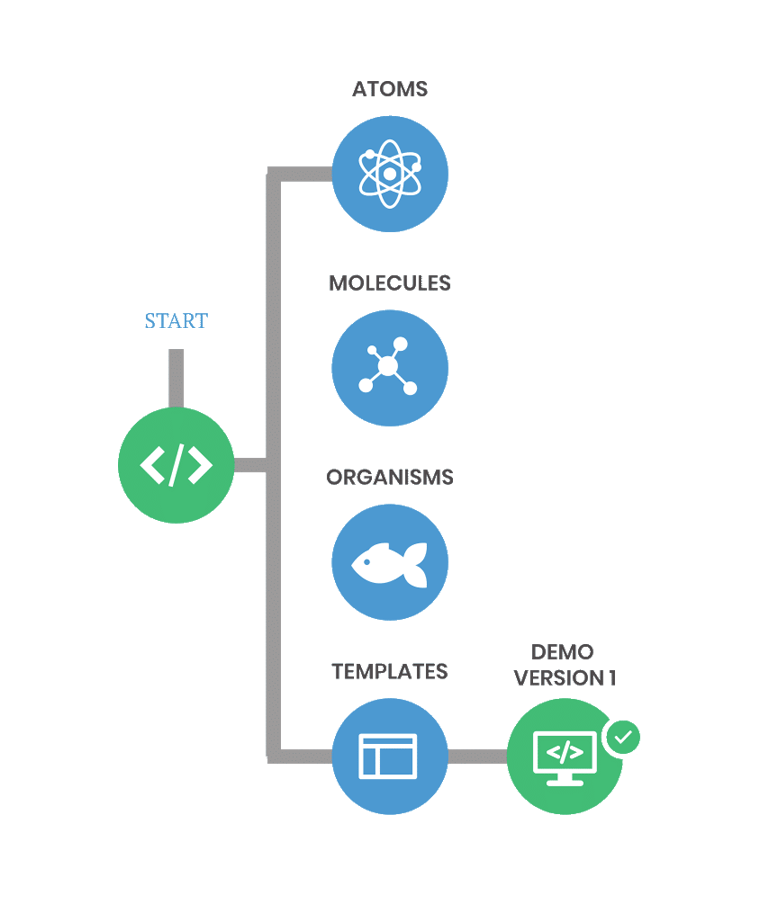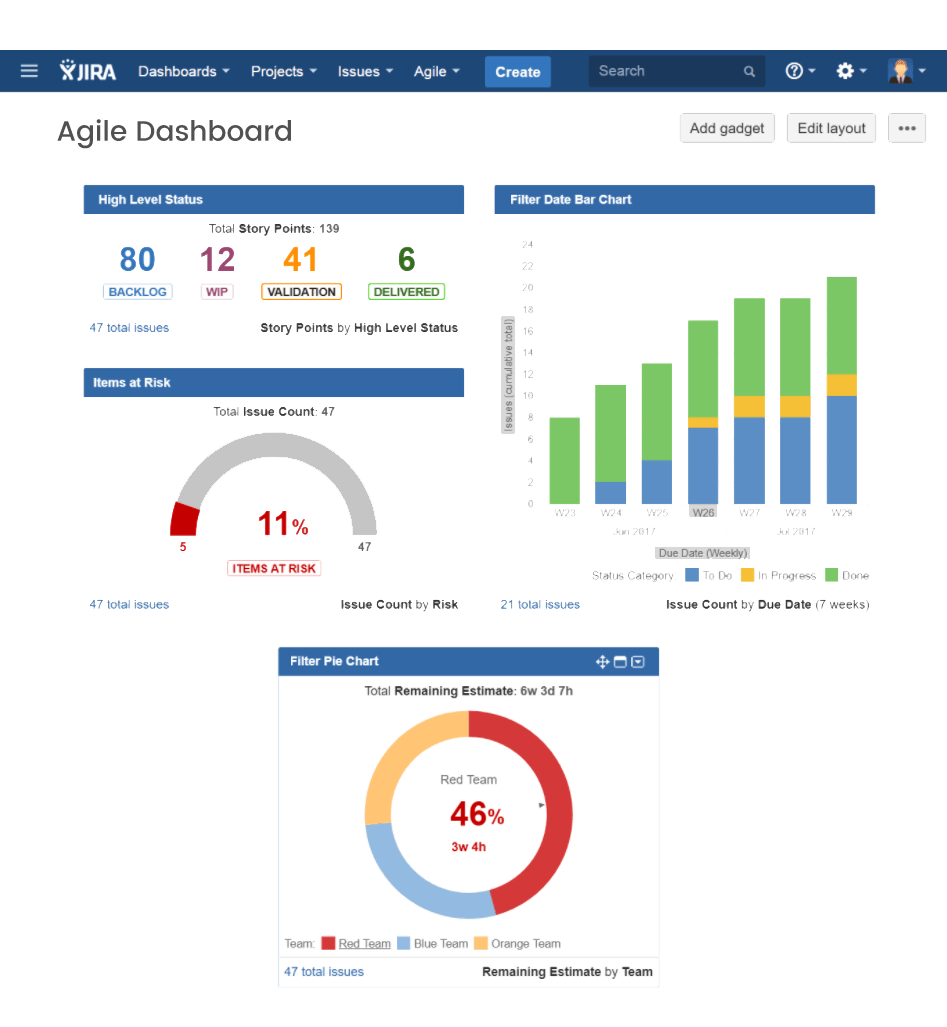 Agile Project Management:
Constant, consistent collaboration
Agile is a project management method that is great for large projects with fixed budgets and deadlines. A typical project may work by checking items off a list until you are finished. This means that contingency in a project is built into time and budget.  To ensure we deliver out sites when we agree, and to the price we agree, Rixxo uses JIRA to manage our projects in a more collaborative and flexible manner.
Employing several tools such as MoSCoW, Story Points and Business Value, we work with our clients to break a project down into easy to achieve, bite-size pieces. We'll know which are the most important, which will give the greatest ROI and which will take the most work. With this information, we can prioritise the workflow.
Whilst working with you on a project we are never more than 24 hours away from knowing exactly what is going on.  A daily standup for 10-20 minutes enables us to discuss the previous days' results, what will be happening today and when the next piece of the project will be underway tomorrow.
During Foundations, we'll teach you all you need to know about this project management method if you haven't already used it. By the end of this first project, you'll be employing some or all of the techniques in your everyday work.