Rixxo Awarded £25,000 Scale Up 4 Growth Grant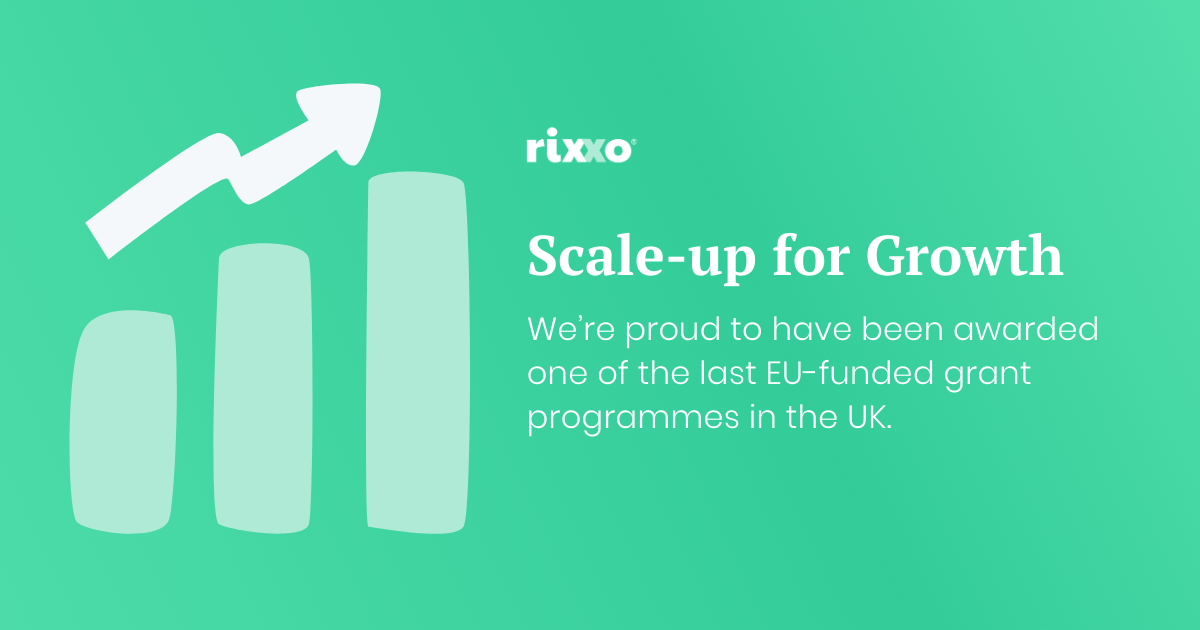 We may (or may not) be leaving the European Union, but we're proud to be included in the small number of Southwest based businesses to be awarded a significant sum as part of one of the last EU-funded grant programmes in the UK.
The award of just over £25,000 on a "match funding basis" allows Rixxo to claim back a proportion of the investment that is made to achieve our ambitious plan to be known as global digital experts, leading the way in defining how audiences are valued and engaged with.
About Scale Up 4 Growth Programme
The Scale Up 4 Growth (S4G) programme is a business support programme delivered in partnership between UWE Bristol, Foot Anstey and NatWest. Funded by the European Regional Development Fund (ERDF). The S4G team are still offering a range of workshops and further grant opportunities may open in the near future.
The aim of the programme is to offer support to businesses who have the potential to create and sustain new skilled jobs in the area. We are passionate about creating a courteous, reputable and caring team where talented individuals can do their best work, so any support in achieving this goal is of course more than welcome.
Where To Hunt For Grants
Sadly there is no one single point of information to help business leaders find out about these kind of grants and it is not always easy to get accepted if you do uncover a funding opportunity. Here are a few places (especially for those in Bristol) that we look to for new programmes:
UWE's Newsletter is full of news on gov programmes, funding and innovation
GOV.UK's business funding finder is hit and miss, but is worth keeping an eye on
Business West is the UK's largest Chamber of Commerce. Although we are not members anymore we keep up to date on the latest news (There are three live programmes at the moment!)
Briony Phillips' scale-up enabler map is also a great resource.
Don't Forget R&D Tax Credits
Lastly, and the one that offers almost every SME a huge opportunity is the R&D Tax Credit Scheme. They are a valuable source of cash for businesses to invest in accelerating their business, hiring new staff and ultimately growing. In particular, those investing in digital advancements.
As our specialist partner Forrest Brown explains:
Companies that spend money developing new products, processes or services; or enhancing existing ones, are eligible for R&D tax relief. If you're spending money on your innovation, you can make an R&D tax credit claim to receive either a cash payment and/or Corporation Tax reduction. The scope for identifying R&D is huge – in fact, it exists in every single sector. And if you're making a claim for the first time, you can typically claim R&D tax relief for your last two completed accounting period.
Feel free to get in touch with us if you have an upcoming project that you'd like to discuss or you think may be eligible.
Don't Forget… We're Hiring
Speak with us and you will understand why our clients trust us beyond being just an agency
We grow businesses pragmatically and with the utmost respect for budgets. We treat our clients businesses and budgets as if they were our own. Find out for yourself...