A challenger in the construction industry offering first class, personal service to the trade.
The "master" of several brands they offer a personal approach and add value with their rapidly growing team of more than 20 dedicated account managers.
This builders merchant aims to deliver fast, efficient ordering and can source and deliver products that other builders merchants cannot.
A website that will support an aggressive growth plan.
An integrated multisite that reduces the admin and increases efficiency across multiple brands.
Rixxo was approached to solve a data issue. Getting orders from the website into Salesforce, customer data into Pardot and finance and account data into Sage.
The plan must support growth, deliver efficiencies and contribute to an omnichannel software system allowing the business to deliver across its increasing portfolio.
Together we undertook the Foundations Process to understand the current position, processes and opportunities.
Together we designed a new business workflow moving consumer data and transactions seamlessly through the full buying cycle.
The project is one that will last multiple development cycles and be part of a 3 year strategy.
Step one. Build a website, integrate it with Salesforce and create a telesales order dashboard that guides account managers to success and increase accuracy and efficiency.
Custom App
Magento Order Dashboard (ODB)
To deliver a fast and efficient service to your clients your tools need to support you in your role.
React web app
Lightning fast product lookup
Create custom ad hoc products
Persistent order summary
Associate to Sales agent & track commission
Generate a quote
By identifying the key process and tasks an account manager undertakes on each call we are able to use machine learning and AI to anticipate what the agent might need. Salespeople are driven by success. The dashboard was designed to support their success and as well as making the job easier the dashboard will deliver incentive metrics such as commission earned AND highlight opportunities to cross sell and upsell.  
Integration
Magento 2 to Salesforce Lightening
Builders merchants thrive on relationships with tradesmen and their businesses. To offer a world class service you need a world class customer relationship management software. A Magento 2 to Salesforce Integration.
By automatically creating opportunities, accounts, tasks and customer records in Salesforce relationships can be effectively managed, automated and deeper consumer insight can be gleaned.
Sync Orders from Magento to Salesforce
Sync Customers from Magento to Salesforce
Sync New Accounts from  Magento to Salesforce
Automatically create Salesforce tasks with Apex scripts
Through careful field mapping, apex scripts and utilising the latest Salesforce Lightning API our client could deliver against the process that was designed for success.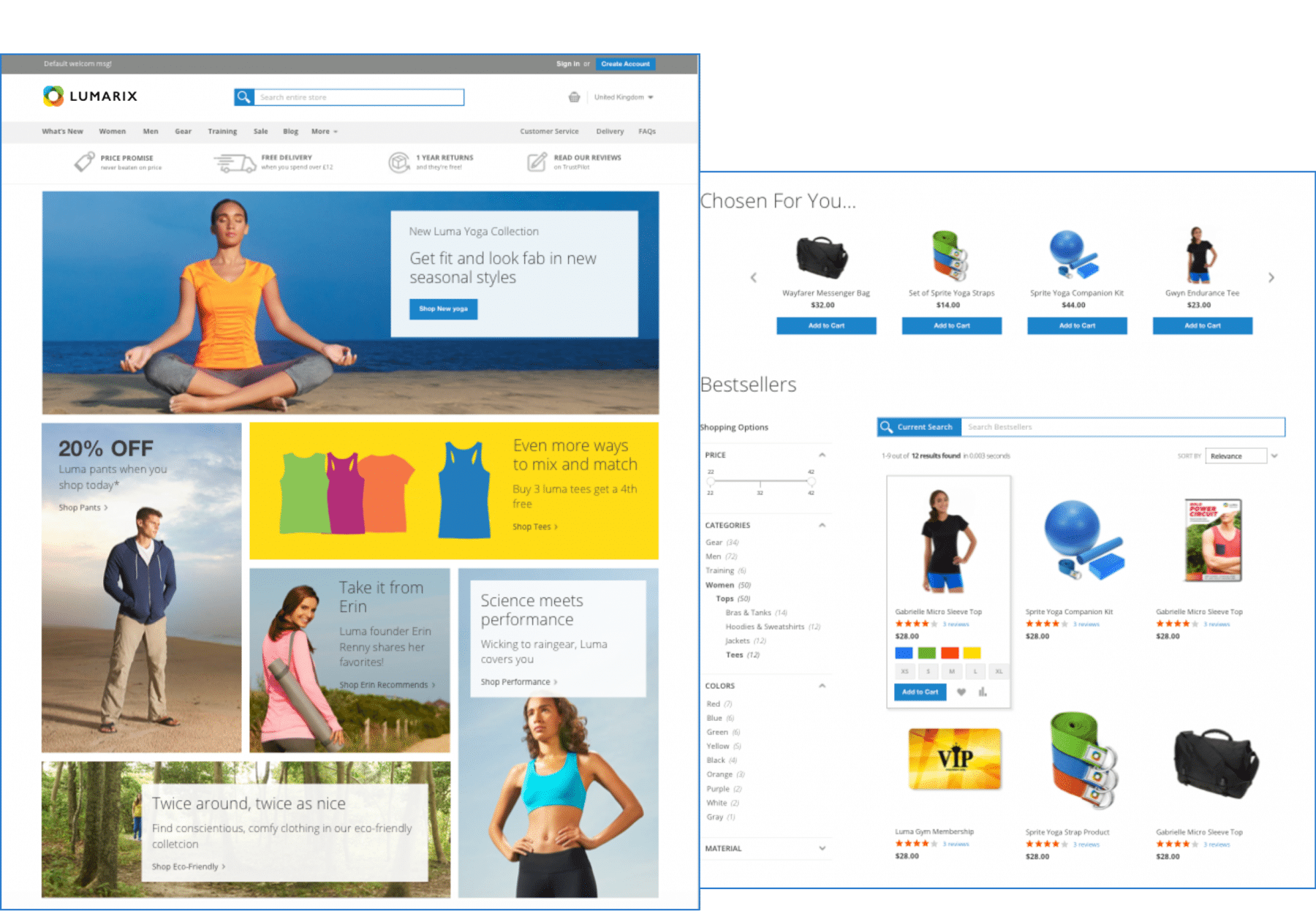 Efficient:
Rebuild not redesign
"If it ain't broke, don't fix it" 
An ambitious project with so many functions already carries much responsibility.
Our client was pleased to learn of our Lumarix Magento theme that carries much of the front end function required and built using the atomic design method. We were able to turn around an on brand design, carrying forward many of the existing websites assets in a few short weeks. This enabled us to rapidly deploy the new website and implement many of the new functions solving some immediate business challenges that also circled the major project.  
Relationship:
Ongoing development and delivery
We're excited now to be in 12 months into the project with major version releases complete and being used in the wild. The next steps are to work closely together and continue to deliver excellence to our clients customers. Improvements to the website experience and integrations are released on a regular agile schedule.
Magento Sales Agent Commission Calculator
AI search improvements and auto suggestions
Magento 2 to Sage Integration
Intelligent Marketing Automation