Joy Mangano is an American inventor, author and entrepreneur known for inventions such as the self-wringing Miracle Mop.
Joy has developed a huge following due to her inspirational success story, which was captured in the 2015 movie, Joy, starring Jennifer Lawrence. Joy's inventions are sold in the US via leading TV shopping channel and online retailer HSN.
After successfully launching several campaign using the Wyng platform, Joy Mangano teamed up again to deliver an innovative new format for engaging audiences on Facebook using Messenger.
The Joy Mangano team are bold and embracing of new technologies and wanted to test the reactions of their audience and engagement levels by using an AI Messenger Bot to power a giveaway competition. The bot is aimed at helping overcome:
Falling organic reach of Facebook posts
Low levels of engagement on Facebook
Rixxo converted the entry point of simple signup competition by form into an AI driven conversational competition entry.
Commenting on a Facebook post with "Get Started" would ignite a conversation with the Joy Mangano Bot who would collect your details, qualify your ability to enter and then suggest some other promotions you may like. As the campaign was run at a test, it comprised of:
Just 1x Facebook (Image) post
Small amounts of promoted post budget
Instagram Destination Ads
Only 72 hours for entry
Under $500 cost for total prize pool
Viral Campaign
using Chat Bots
By leveraging the power of bots we were able to create a campaign that significantly increased engagement by harnessing the power of Facebook Messenger.
Over 1.2 billion have this app installed, and are used to using it as a primary source of communicating with friends. By creating a bot to converse with an audience, it creates a more organic interaction. And manages to evade the usual bounce rates of traditional sales emails.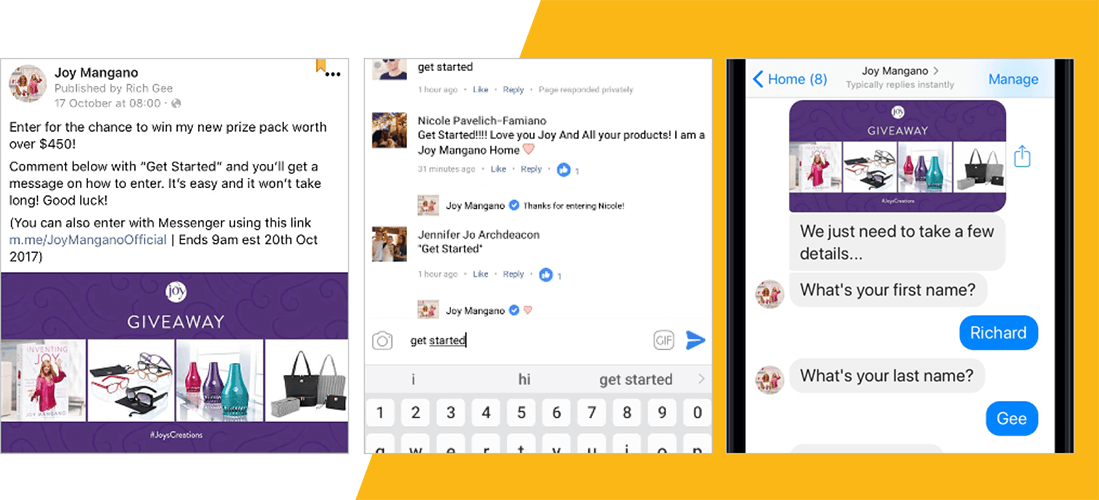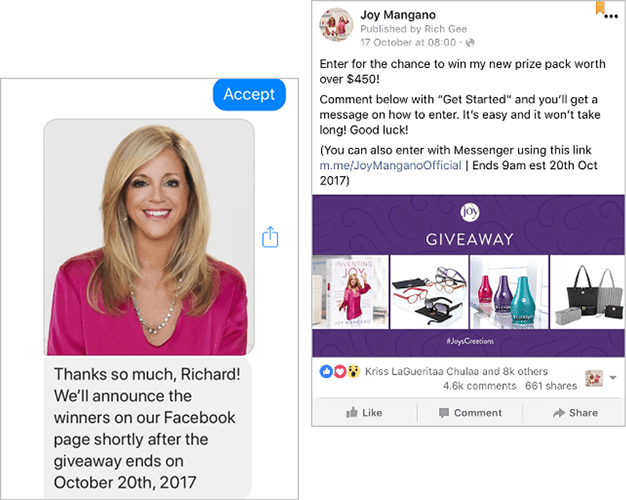 Growth:
List, Page and Likes
Due to this more organic approach the bounce rates were drastically less, and the engagement resulted in record high numbers.
List Page and Like growth was significant, and the bot was also extremely effective in attaining newsletter subscriptions. Joy Mangano's audience were receptive and open to this form of viral marketing as it resembled their every day chat activity.