Monarch Airlines, also known simply as Monarch, is a British low-cost airline based at Luton Airport, that operates scheduled flights to destinations in the Mediterranean, Canary Islands, Cyprus, Egypt, Greece and Turkey.
In a competitive, price-driven marketplace cutting through the noise is a difficult task. Customers not only demand the lowest prices but also the highest levels of customer service and engagement.
Monarch is bold and embracing of new technologies and wanted to test the reactions of their audience and engagement levels of an AI Messenger Bot.
Rixxo converted the entry point of simple signup competition by form into an AI-driven conversational competition entry.
Commenting on a Facebook post with 'Get Started' would ignite a conversation with the Monarch Bot who would collect your details, qualify your ability to enter and then suggest some other promotions you may like.
"The organic reach and engagement has been incredible"
NAOMI BRESSON
SOCIAL MEDIA & CONTENT EXECUTIVE, MONARCH AIRLINES
Our first step to creating an improved experience was to bring the campaign quality in-line with Travelzoo brand and messaging policy. When creating shareable campaigns and competitions users want it to look good. It represents them, and their values and the better it looks the better they look.
When using third-party campaign tools and platforms you may find yourself limited. Not here at Rixxo!! We added some custom javascript that allowed us to cleverly adapt the design of the platform to meet Travelzoo brand guidelines and importantly the discerning taste of their users.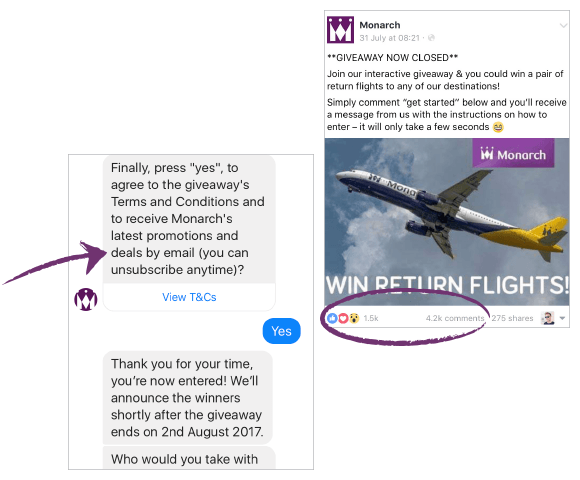 Highest organic reach in 2 years