hellobathrooms.com is a customer-centric online retailer, serving retail and trade customers through a refined bathroom offering with a focus on selection, outstanding support, prices and convenience.
The company sets to resolve the pains many are faced with when purchasing bathrooms online, amidst poor choice and run-of-the-mill experiences. By featuring a well-presented range, transparent ordering process, and efficient fulfilment service, this enables the brand to gain credibility and become the trusted source for consumers searching for new bathrooms.
Driven by a powerful investment team with decades of bathroom experience hellobathrooms are primed to offer outstanding service, great prices and have all the tools to deliver.
With a short time to launch to meet the Christmas and New Year rush to update homes, we used Lumarix to bootstrap the project and launch the brand's site from zero to working website in just a few weeks. From here the WMS & fulfilment integration was added to ensure by Go Live the site could fulfil orders seamlessly.
hellobathrooms branding agency provided the look and feel that was applied onto the Lumarix default theme reducing any development and design time of the website and we got to work on the catalogue.
Thousands of products were set up in 14 attribute sets carefully structured to offer an amazing layered navigation experience, optimised Google shopping feeds and the data connected to collaborative spreadsheets that could be instantly imported allowing the client and Rixxo teams to crowdsource product data and continuously deploy thus shortening the time to live.
We worked alongside hellobathrooms' SEO agency to provide access and information about the sites structure to allow them to prepare the site for launch.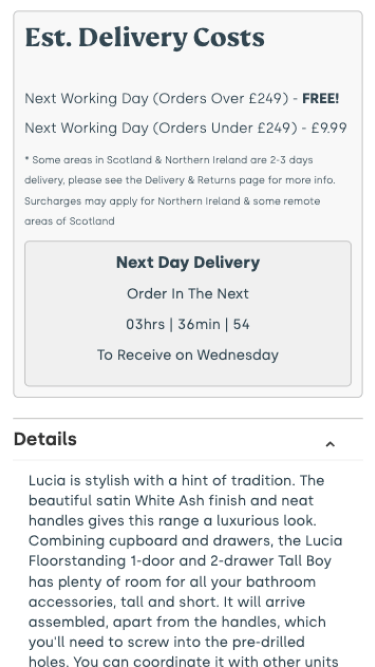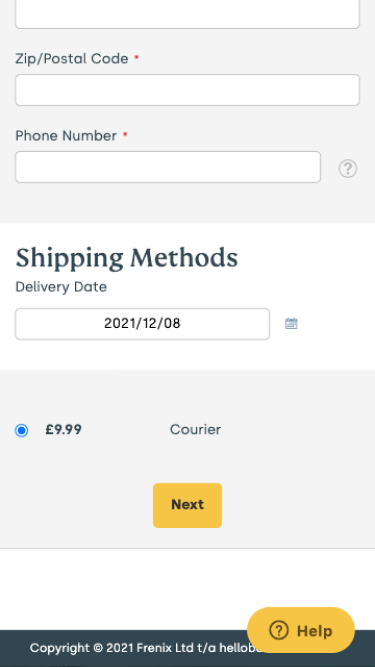 Responsive
Mobile design for retail
With circa £250bn of mobile retail now carried out mobile devices, Lumarix quickly delivered a responsive mobile-ready layout.
Whilst the majority of trade and B2B sales are still seen mainly on desktop it's important not to forget our retail clientele.
Designing for Mobile, Tablet and Desktop can divide your budgets. By using Lumarix's fallback and optimised mobile patterns our clients can move much faster to a functional site across multiple screen sizes whilst retaining the budget to spend on other enhancements or automation.
Additional features that can be seen here are:
Checkout via Apple Pay
Countdown to delivery cut-off timer
Custom delivery date request at checkout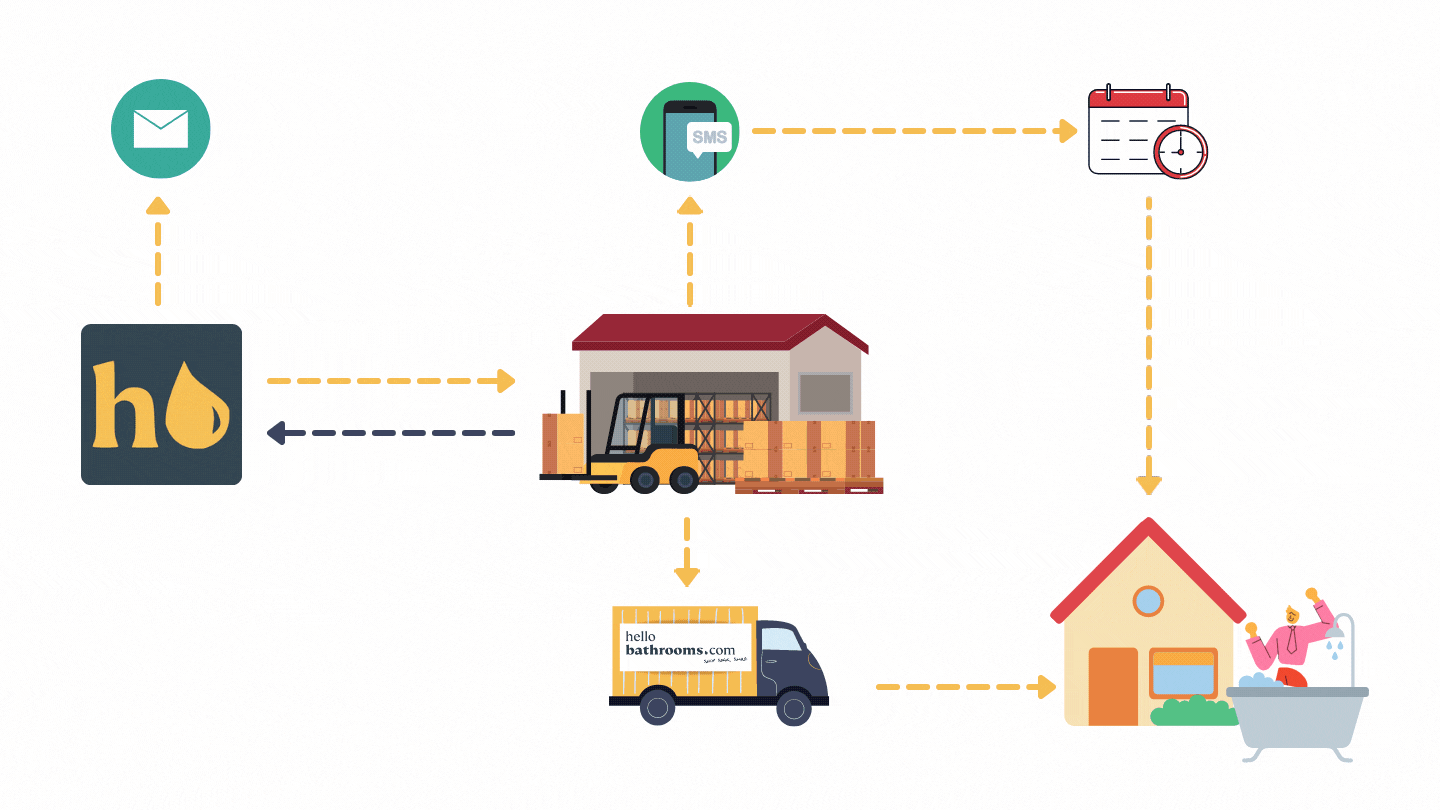 Fulfilment Integration
Speed and ease of delivery
Part of the USP of hellobathrooms.com is their access directly to multiple warehouses and a manned delivery.
By integrating the website directly with the fulfilment system in the warehouse an order can be despatched and delivered within 24 hours.
The integration ensures correct delivery dates and details are conveyed both to the warehouse and the client.
Customer-Centric
Clarity, information & experience
A customer-centric website requires customer-centric features and tools. 
Clear delivery marketing on every page with a countdown timer to the last order time for next day delivery, live chat powered by Zendesk and automatic rule-based upsells give the shopper everything they need right on the PDP (product display page).
A clear and easy to manage FAQs section with a search function also allows a user to get quick access to common questions when buying a bathroom.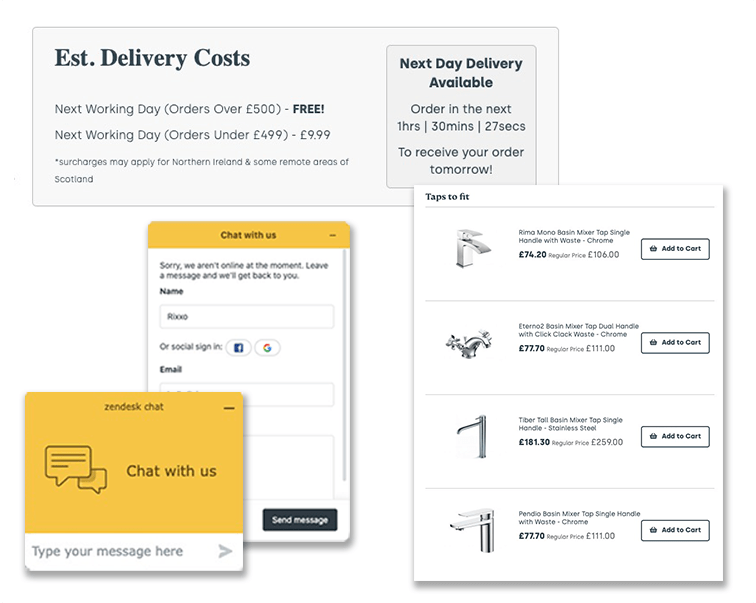 Promotions
A drag and drop editor with easy to use banner marketing
Creating and editing content is super easy with a drag and drop editor allowing pages, banners, and even the menu to be customised by the marketing team from a simple to use visual builder.
Tip: Scroll through the screenshot to see more
Reducing the pain
Easy to search and navigate
Lumarix's built-in layered navigation system is incredibly powerful, with choices to filter attributes by:
Price with sliders or ranges
Select to show/hide
On Sale
In Stock
Custom Attribute Values
We took the initial data files and specification documents, profiled a bathroom buyers user journey and created filters that matched common buying requirements
Will it fit in this space?
Will this fit my existing bath/toilet?
Is it in my price range?
As well as using the attribute data for layered navigation we present as much of the specification data of every product to set ourselves apart from the competition.
Tech, Platform & Solutions
Catalog Setup

ERP and WMS Integration

Lumarix Lite

Migration

One Step Checkout
An MVP as feature rich as possible to launch a startup

Lumarix provides a collection of day-to-day tools that are ready to use and can be styled quickly and efficiently keeping the cost of a project down.

Dropship integration with shipping updates

hellobathrooms USP of superfast, personal next day delivery required a robust and configurable bi-directional integration with the warehouse to ensure on-time delivery.