Engage your audience with… Shoppable Instagram
In the retail sector, there is a growing trend to 'shop the look'. This is where retailers give consumers the option to easily navigate their way to the product(s) they are looking at in an image, usually by making the image clickable by embedding the relevant links.
On Instagram, it's not so easy for users to 'shop the look', with brands restricted in the amount of links they can share – they can only share a link in their bio, unless they want to pay for the privilege of adding a link to their photos. If you want to increase conversions on your eCommerce website, enter Wyng's Shoppable Instagram use case.
What is it for?
This use case is designed to make your brand's Instagram profile shoppable by creating a gallery of clickable images and displaying them in a format that mirrors Instagram.

How does it work?
This use case uses the same imagery as Instagram, but it has a built-in shopping tile which allows users to click on products within images and be taken directly to the product page on the brand's website.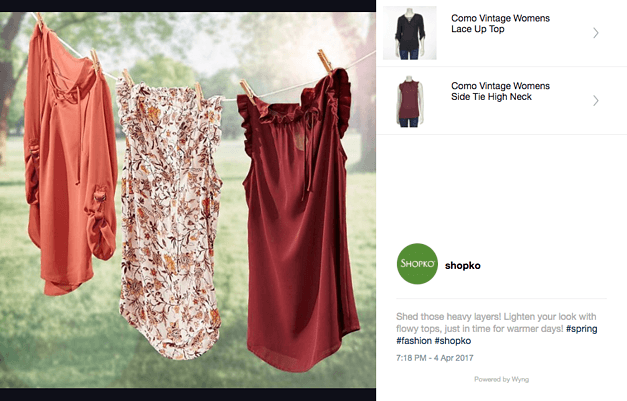 Why does it work?
It provides your audience with a mobile shopping experience that is familiar to them. They will have travelled to your gallery from your Instagram profile, so they will automatically know where to look and press.
Why should you implement a Shoppable Instagram?
It will help increase traffic to your website by making it easy for your audience to get to the page they desire. This should also help increase conversion rates – after all, the very fact that your audience has clicked through to the product would suggest they are interested in making a purchase. The template also gives brands the opportunity to test new products and gauge how well they perform.
To see a real life example, look at Shopko's Shoppable Instagram.
Like all of Wyng's use cases, Shoppable Instagram is designed to be 'plug and play'. Once the few configuration steps have been taken, the past 200 posts made by your brand will be collected into the 'Content' tab and from that point on, new content will be collected on an hourly basis. Just remember to put your tap2.shop link on your Instagram bio once your gallery is up and running!
Speak with us and you will understand why our clients trust us beyond being just an agency
We grow businesses pragmatically and with the utmost respect for budgets. We treat our clients businesses and budgets as if they were our own. Find out for yourself...