9 free marketing resources that are actually useful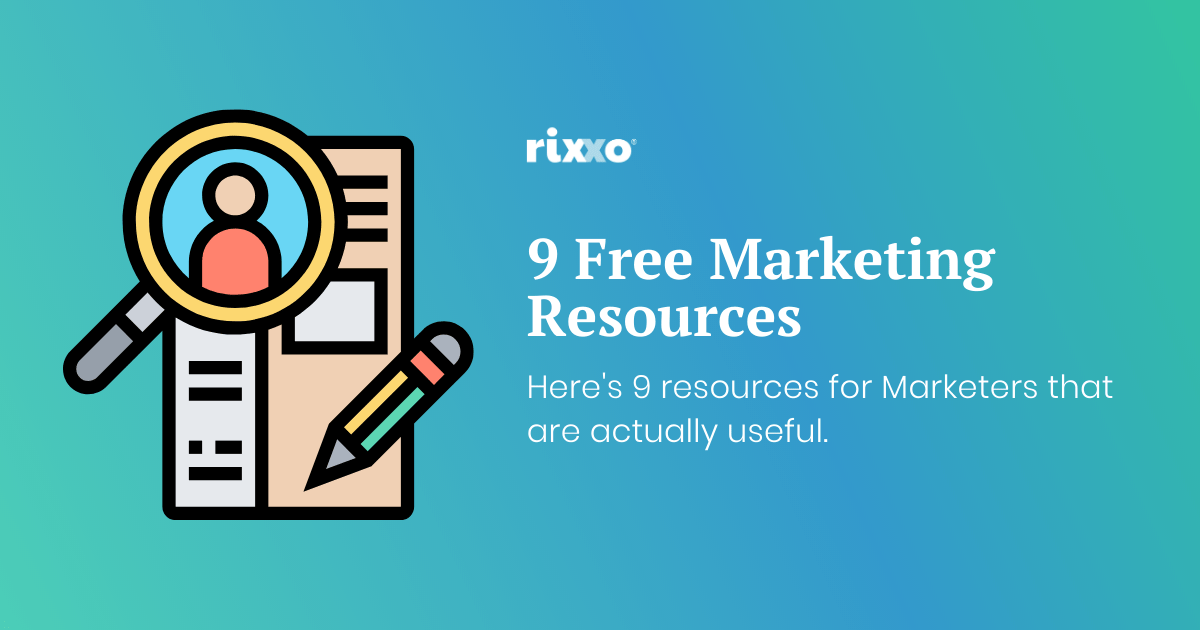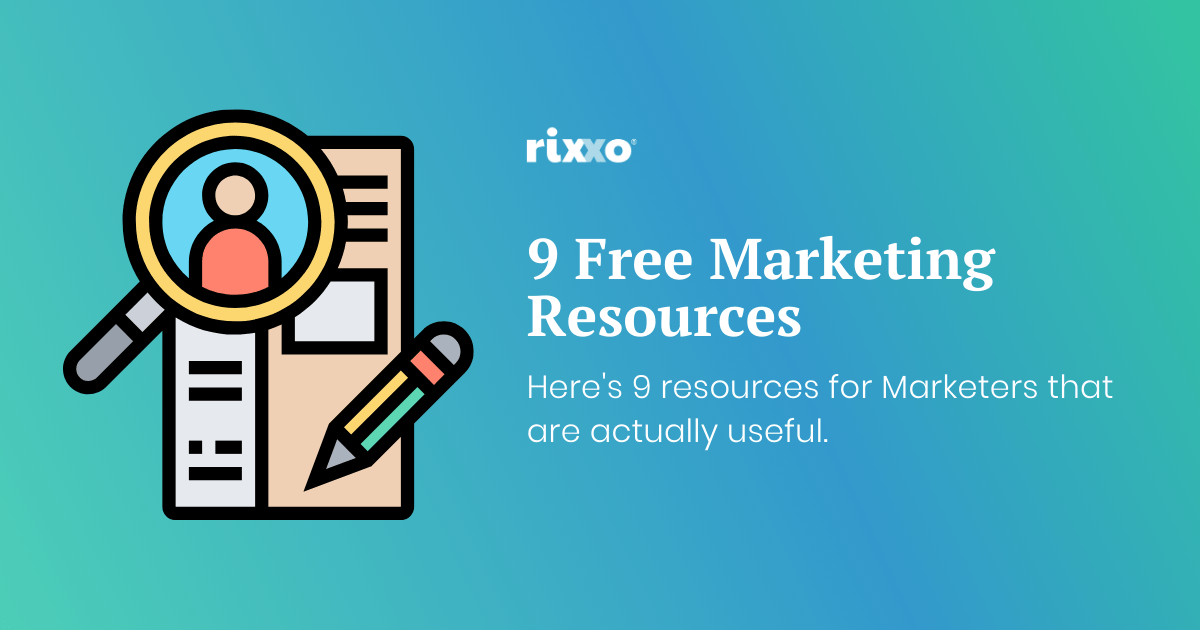 Everyone loves free stuff. But if you spend too long collecting free stuff that's no good, you just end up with a room – or an inbox – full of junk. Any good marketer knows that creating free resources is a great way to bring in leads; by handing out something for free, you get an email address in return, which then usually means a prospecting opportunity for the sales team.
The popularisation of this type of marketing means we are constantly being bombarded with pop-ups and CTA's encouraging us to download free resources in exchange for an email address. Because it's so frequent, it can often get pretty overwhelming; either you ignore all of them, or you sign up for anything that sounds vaguely good – which means you end up in 50 email tracks, drowning in downloads, and with about only two or three actually useful resources.
Having gone through the latter approach (my promotions inbox is heaving) I thought it would be worth making a list of some of the resources I've collected which are actually helpful. It would be a shame to miss out on good stuff just because of oversaturation, so I've tried to cherry pick what's actually useful to save you the time, energy and unnecessary emails.
So keep reading if you're looking for some high quality, free marketing resources which will actually help you grow your business. These are in no particular order, and some may be more or less relevant to depending on where you are in your marketing process. I've tried to include a balance so this should be relevant to you regardless of whether you are a marketing team of 1 or 100.
If you think we've missed a good resource off this list, please get in touch at hello@rixxo.com.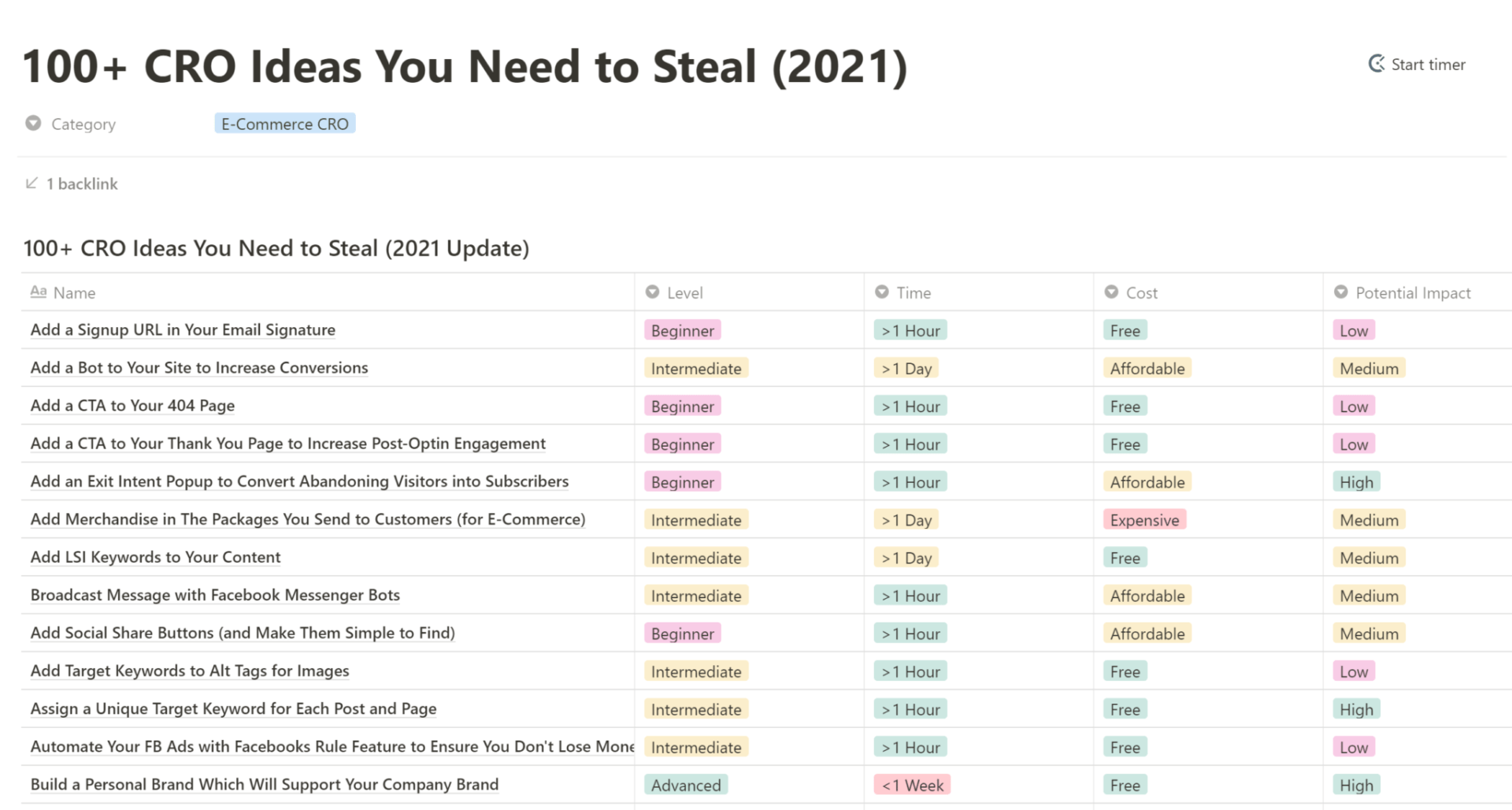 Sleeknote's Free Marketing Resources / Best resource for CRO ideas
Sleeknote are a pop-up hoster and they've got their marketing down. I'm currently knee-deep in one of their automated tracks, which though a little cheesy, is pretty engaging. They also have one of the few business newsletters I bother reading, so they definitely know their stuff.
Sleeknote have a notion site that has tons of resources on. And when I say tons, I mean 38! While it looks like an overwhelming amount of free content, most of it is just screenshots of good examples, which while helpful, are not groundbreaking.
That said, a few resources in there are real gold. One of my favourites is the '100+ CRO Ideas You Need To Steal'. This is a list of conversion rate optimisation approaches to use that span different platforms and timescales. One of the things I like so much about it is the tags: each suggestion is ranked by level, time, cost and impact. This makes it super user-friendly and a really great jumping-off point for any company, as you can tailor the suggestions to your bandwidth. Some of them are a little more B2C than B2B focused, especially in terms of social media engagement, but there are enough universally good ideas to make it a helpful list for everyone.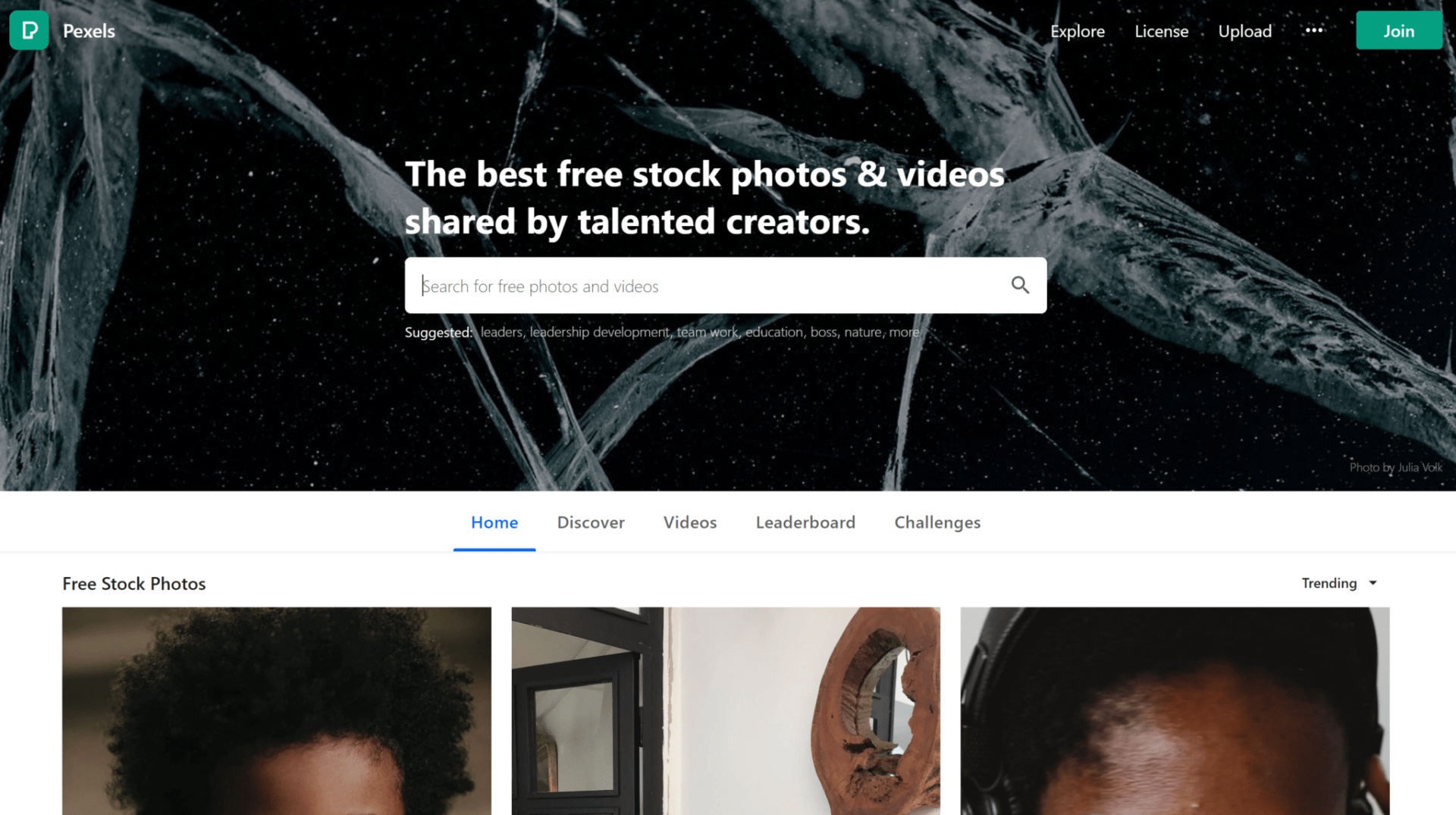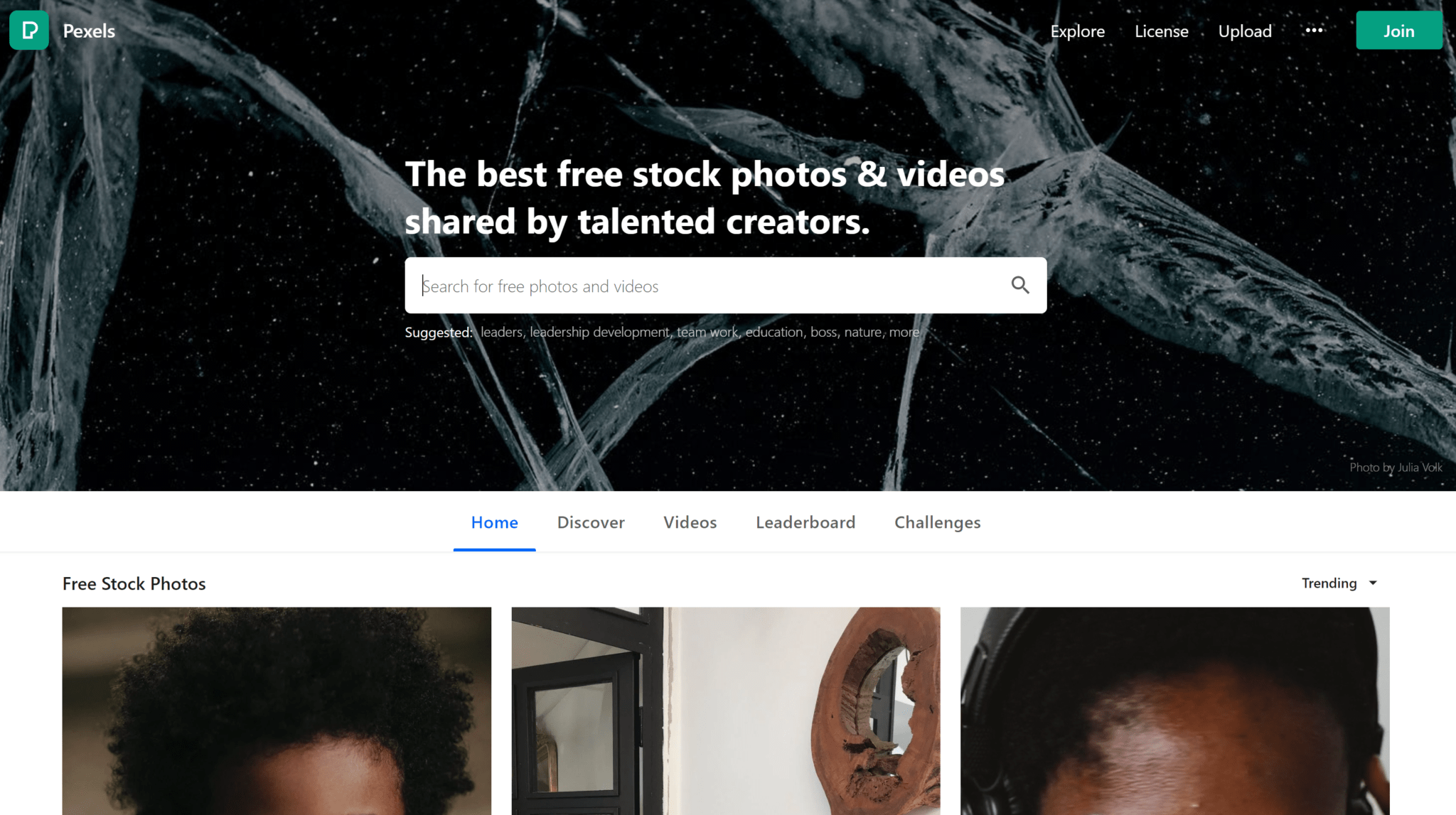 Pexels / Best places to find royalty-free, free imagery
I'm not going to patronise you by asking if you've tried using Canva (ok but seriously, if you haven't, it's life-changing). But while Canva is great for icons and graphics, the Unsplash plugin for stock images is often unfulfilling.
I used to spend ages scouring the internet for a free stock image that wasn't of a thin white blonde woman holding a coffee in the sunset. Pexels is a game changer because it's royalty-free, free to use, and the diversity in their images is unparalleled (in my completely subjective opinion). Diversity in your marketing imagery is so important, so Pexels is a great fuss-free place to find good imagery for your site, collateral or social posts.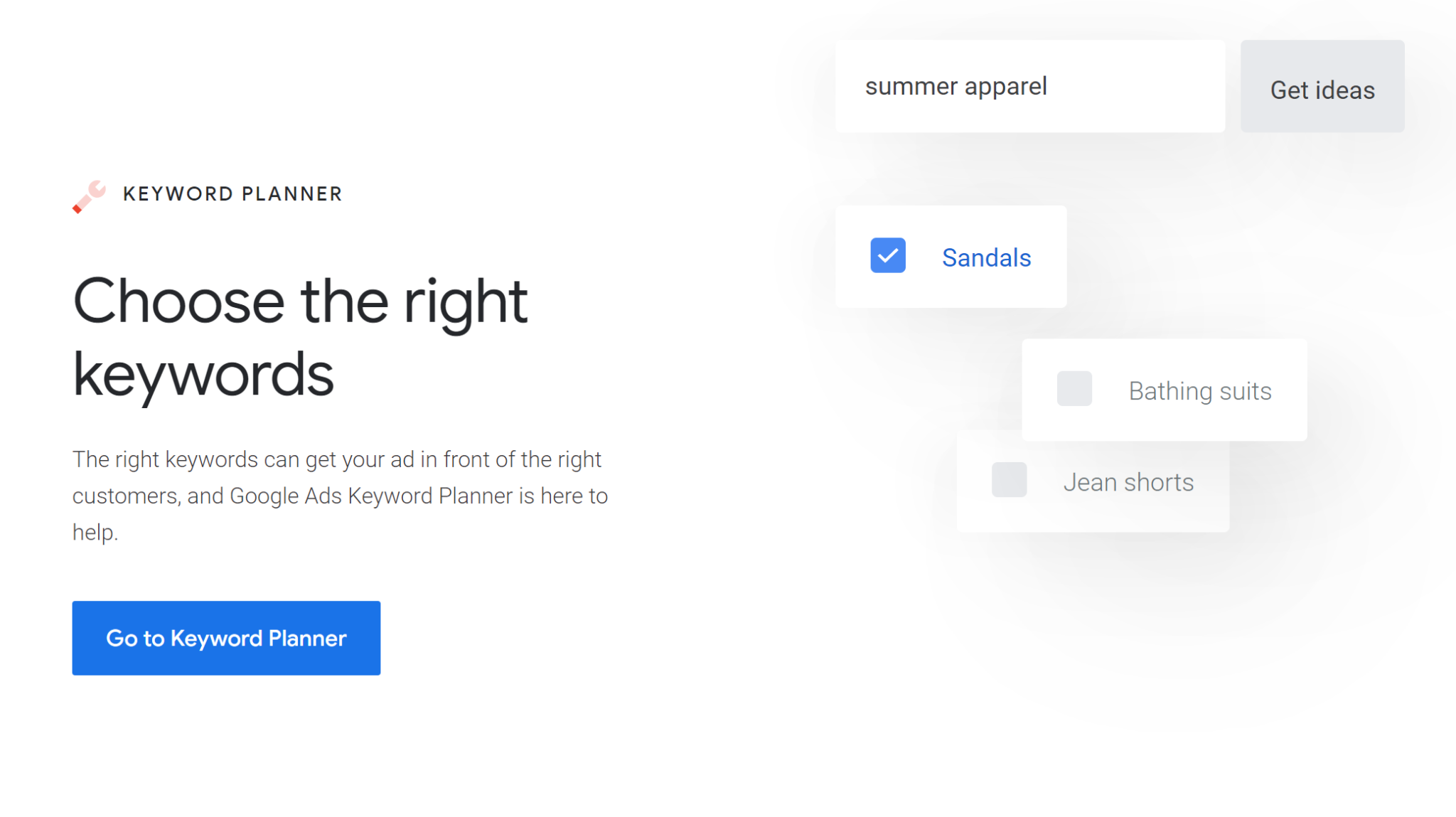 I nearly didn't include this because suggesting Google products isn't groundbreaking… Google are hardly a cool indie company you've not heard of yet. But from my experience, so many people don't actually dive in and use everything that's there. So if you're doing PPC ads or want to get an idea of what search terms to be focusing on, make use of their tools. The Google keyword planner is free but it's worth mentioning that you need a Google Ads account to access it.
Again, not sexy, but Google also does some pretty neat digital marketing courses which you can check out here.
If you have the budget, get Ahref. We love it at Rixxo and it saves us so much time and energy on our SEO. It works by doing a crawl of your site and highlighting all of the technical SEO mistakes you're making, where you're making them, and how to get it fixed. Screaming frog SEO spider is pretty similar but you can crawl 500 URLs free of charge. If you're in a pickle with your redirects, want to quickly generate an XML sitemap, or find 404s, this is the best place to start.
So often technical SEO is overlooked, to the real detriment of website traffic. If you have no idea what I'm talking about then check out the Screaming frog SEO FAQs for handy tips on what all this means, or get in touch if you want help with your SEO.
Buyer personas are not a new concept. They began with user personas generated from informal interviews by software developer Alan Cooper in 1983, and have grown in popularity since to be a staple in many marketers' toolboxes. Personas are just a formalised imagining of the kind of customers you have or are looking to attract. Through personas, you can tailor your brand voice and messaging to feel relevant and appealing to who you're actually trying to attract.
Creating personas can seem daunting if you don't have them, or irrelevant if you don't use them properly. But it's not rocket science, and the Make my persona HubSpot tool makes it even easier. It's an interactive user-friendly persona generator which takes all the stress and mysticism out of creating a persona. It even gives you the option to export a pdf at the end with all of the info and beautiful graphics, so it's great for client work too.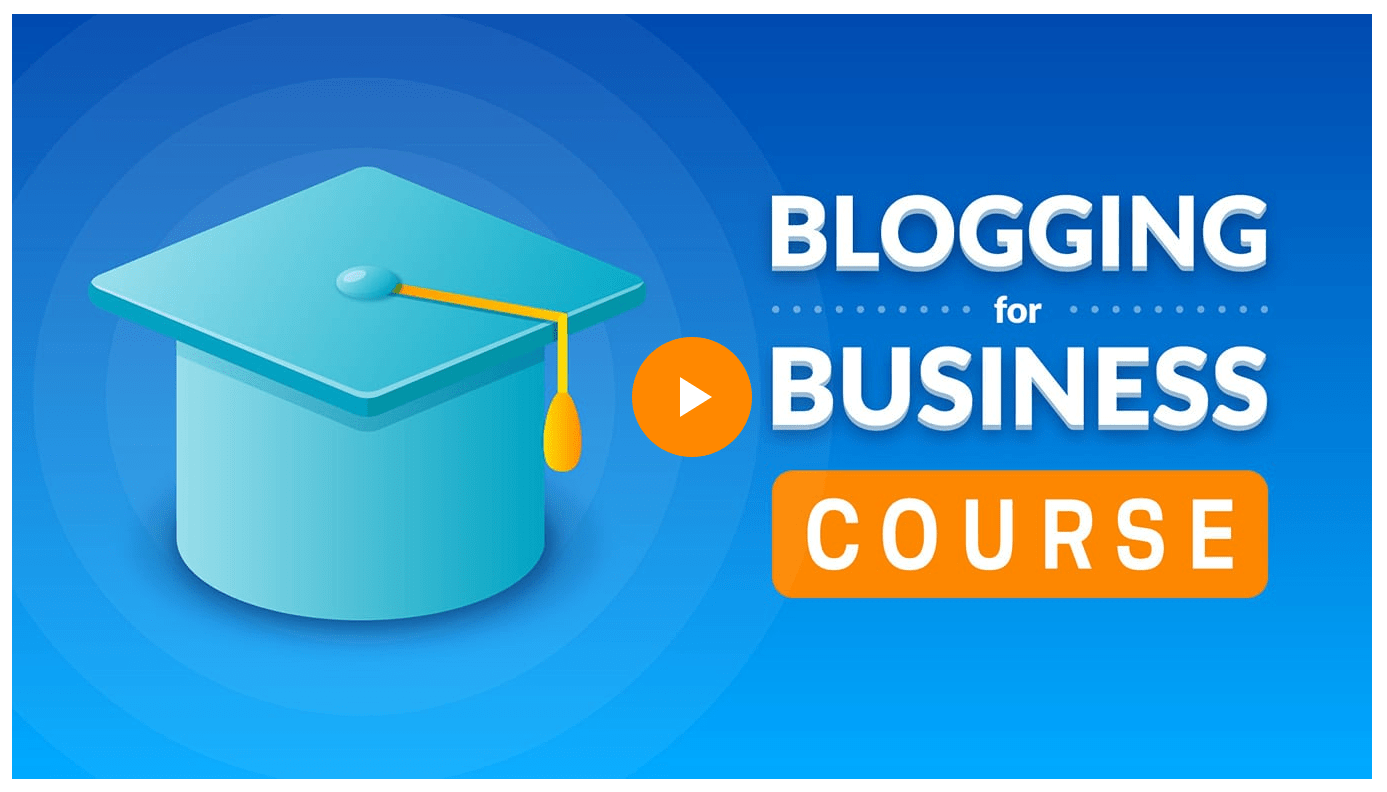 These days, everyone and their fifth cousin have a blog. But is your blog actually working for you? How often does the time, sweat and tears you put into crafting beautiful blog posts actually convert into paying customers? If you're not convinced you're getting the best from your blog, this may be what you need.
It's a video-based course of 10 tutorials totalling over 4hrs of content. It used to cost hard cash too, but the nice people at Ahref have made it free since the pandemic, so get in while you can.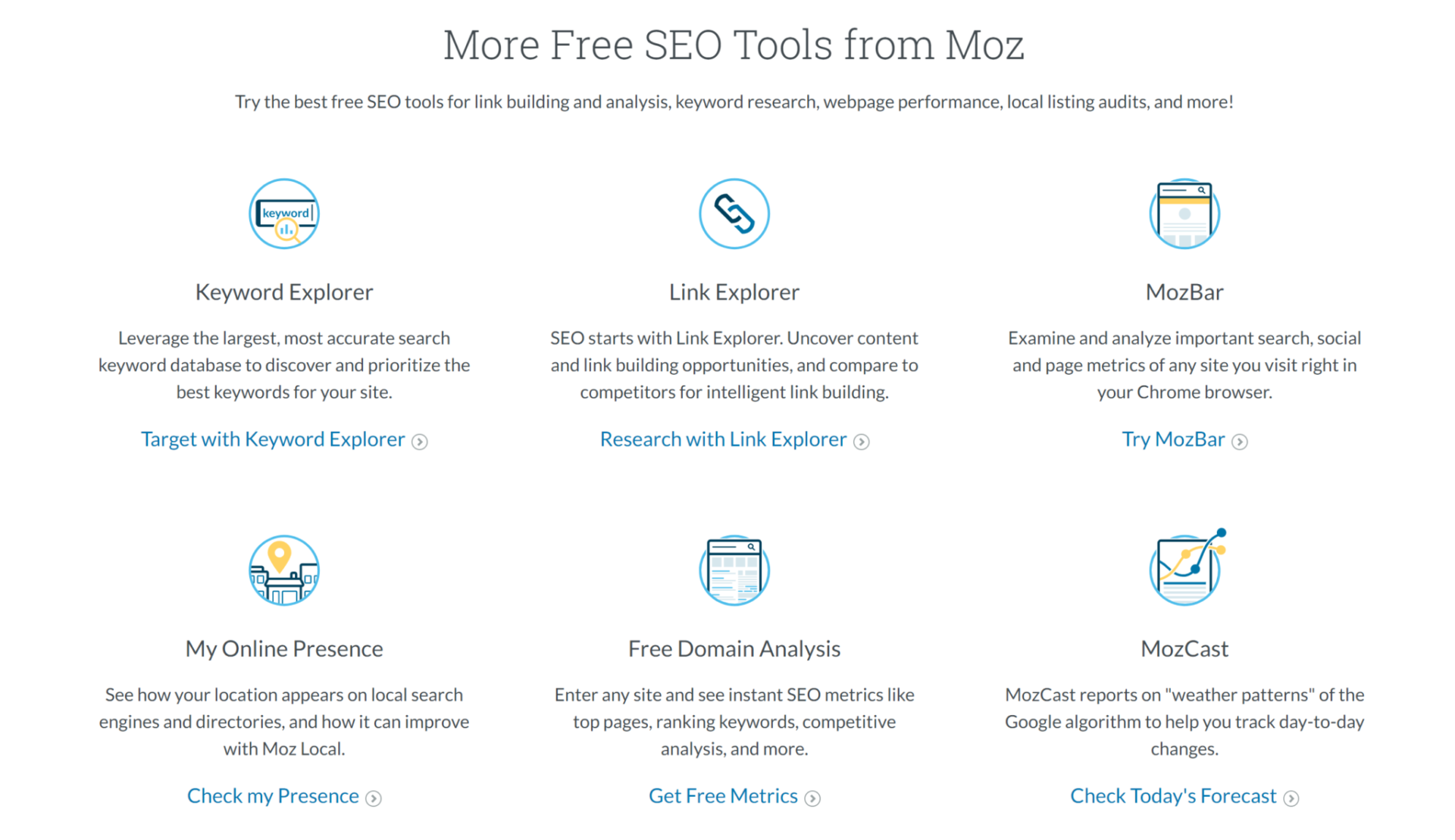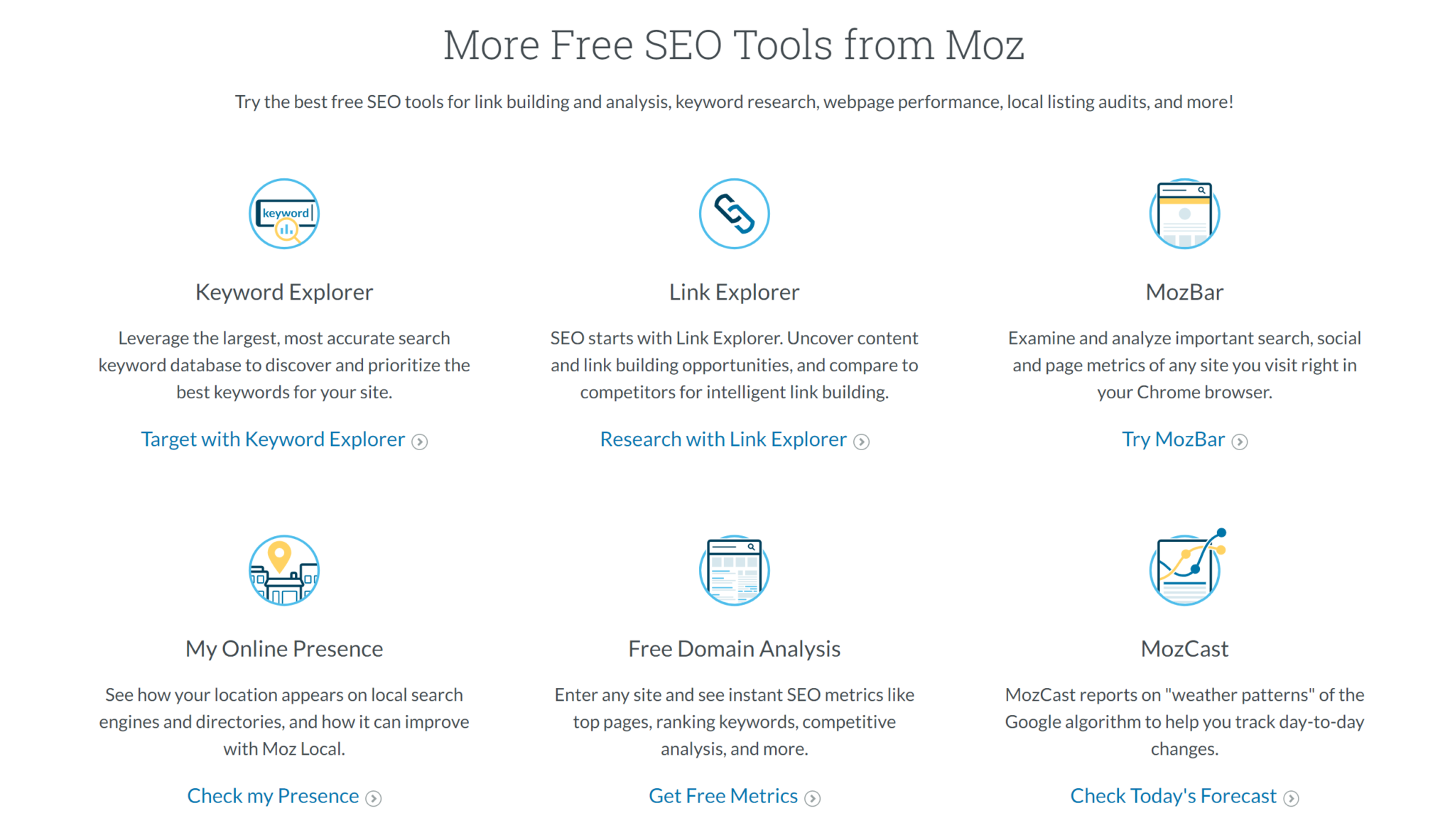 Free Moz SEO tools / Best free top-line SEO analysis tools
Moz tools are like an SEO foodbank. They give an amazing amount of tools and tips out for free. While many of them have (albeit generous) caps on how often you can use them, the free Moz tools are still a great place to get a taste of all the paid SEO tools. My personal highlights include the Keyword Explorer, Free domain analysis, and the link builder.
It's also worth mentioning their Beginner's Guide to SEO and SEO learning centre. The super user-friendly, helpful guides to the basics and advanced SEO. If you are looking at brushing up your SEO skills, this is the number one place to go.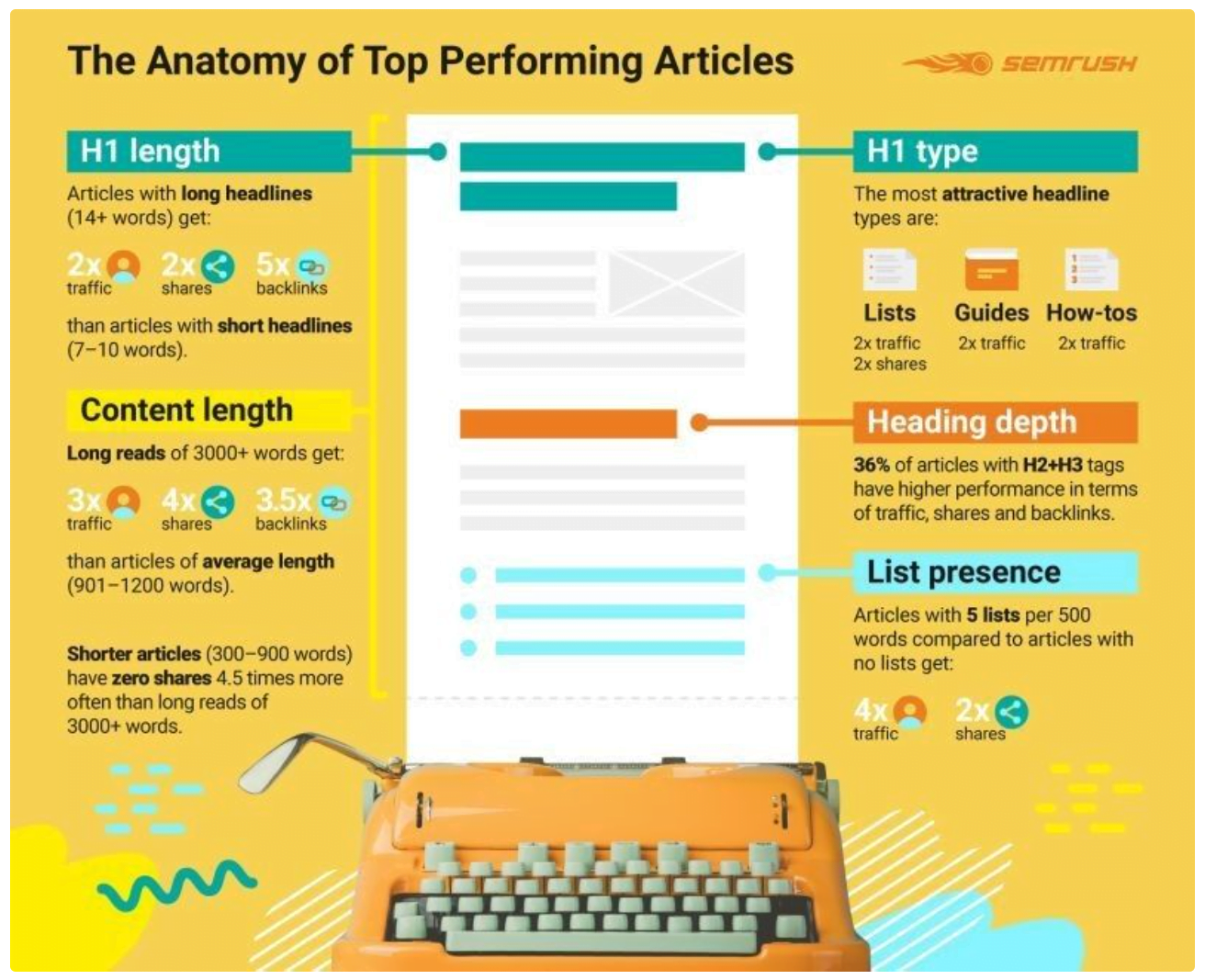 This infographic from Semrush / Best summary of the best performing blog lengths
There are loads of contradicting ideas about what you should and shouldn't do when writing articles. Semrush put a ton of research into this and came up with some concrete, data-based answers which they've handily made into this easy-to-read infographic. It's a good one to send around the team or stick up somewhere to remind you of the very basics of blog structure.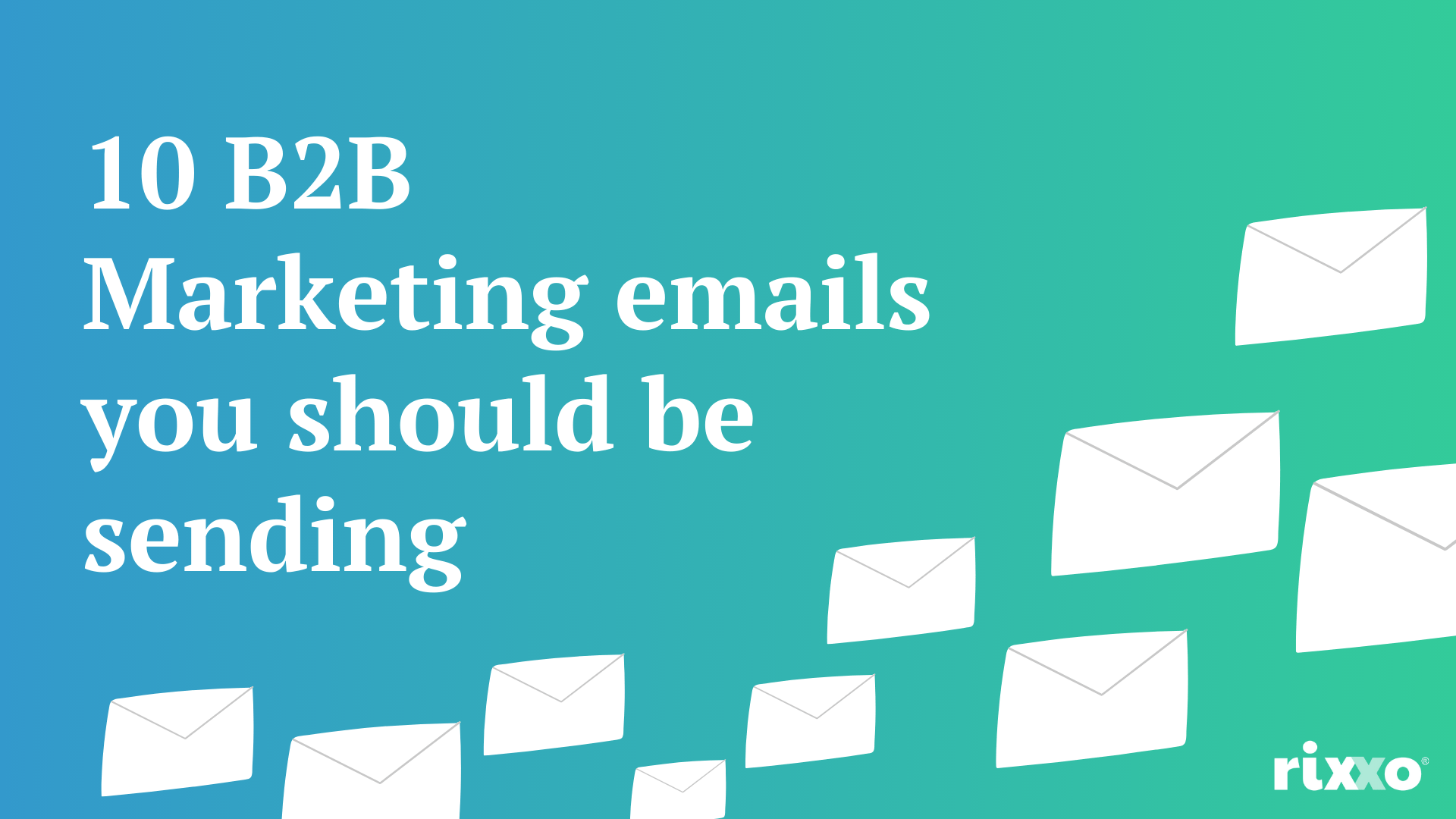 Our B2B Marketing Guide / Best shameless plug
We put together a free B2B marketing guide, packed full of examples of eCommerce and B2B emails you should be sending. We're pretty proud of it and designed it with the idea of adding real value as a reference resource which you can keep dipping into for ideas. It also includes a checklist of important elements not to miss in your emails. You can get it here! We also have a tool for calculating how many leads you to need, which you can try out here.
Hopefully, these resources have been helpful. If you want more tips, tricks and resources then take a second to subscribe to our monthly newsletter using the form below. We'll only email you occasionally with interesting and valuable content, and you'll get extra tidbits we don't publish on the blog.