From Bricks to Clicks: How a B2B eCommerce Website Can Transform Your Business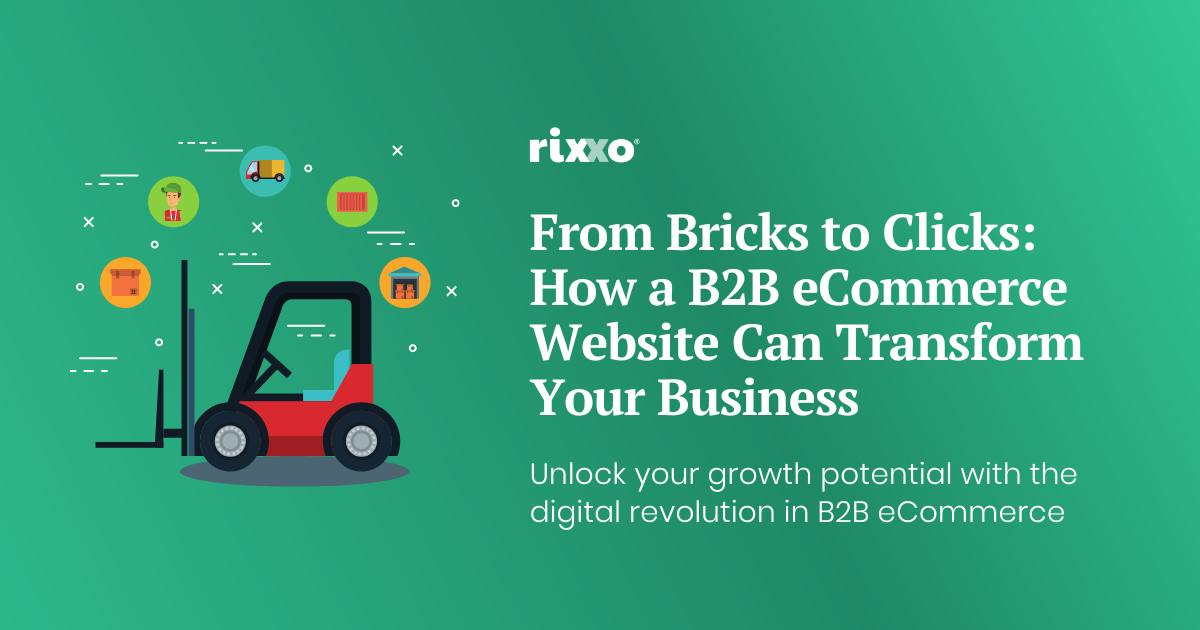 The business world has undergone a dramatic transformation over the past few decades. Driven in large part by advances in technology, physical stores have been replaced by online stores. A B2B eCommerce website can offer a host of advantages for the modern B2B business. From increased product visibility to more efficient processes, a B2B eCommerce site can unlock a world of potential for growth-minded B2B sellers. 
In order to stay competitive, businesses must adapt to the changing landscape and embrace the digital revolution. Here's why.
The rise of eCommerce: a snapshot
eCommerce has not only revolutionised the way businesses interact with customers, but it has also enabled them to reach new markets and increase revenue. To understand the impact of eCommerce in B2B, it's important to take a look at the current state of the industry.
---
Internet shopping is more popular in the UK than in any other country. Consumer eCommerce now accounts for 30% of the total retail market in the UK (up from 20% in 2020), with eCommerce annual revenue totaling over $120 billion. 82% of the UK population bought at least one product online in 2021

Source: United Kingdom – eCommerce
---
There's no denying it, eCommerce has become the new face of global business. It's dramatically reshaped the way companies operate and interact with their customers while presenting an enormous opportunity to tap into previously unreachable markets, and subsequently, boost profits.
The prevalence of Internet shopping in the UK tops the global charts, reflecting the seismic shift in consumer behaviour. The impact of eCommerce on the retail market has been monumental.
---
In 2020, the e-commerce sales reached a share of 32.5 percent of all retail sales in the Untied Kingdom (UK). For 2025, the forecasted retail e-commerce sales as a share of total retail sales in the UK might reach 38.1 percent, up from the previous years.

Source: E-commerce share of retail sales in the United Kingdom (UK) 2020-2025
---
The monetary implications of this growth are equally astonishing, with annual eCommerce revenues exceeding a staggering $120 billion.
The UK's consumer base is rapidly becoming more digitally savvy. As of 2021, 82% of the population had made at least one online purchase, a testament to the accessibility, convenience, and wide product selection that online shopping platforms offer.
However, the eCommerce boom isn't just limited to the B2C sector. In the B2B space, online commerce has become a crucial element for business survival and growth. An increasing number of businesses are acknowledging the benefits of digital platforms for procurement, supply chain management, and customer relationship management.
There's also been a significant leap in the adoption of sophisticated technologies like AI, machine learning, and big data in the eCommerce realm. These tools enable enhanced personalisation, streamlined operations, and insightful data analysis, adding another layer to the richness of the digital shopping experience.
The conclusion is clear: eCommerce isn't just a fleeting trend. It's the cornerstone of modern business, and its influence will only continue to broaden in the years to come. The importance of understanding and integrating this digital transformation into your business strategy can't be overstated.
Harnessing the power of a B2B eCommerce website: Key benefits
Step into the world of B2B eCommerce and get ready to revolutionise your business. Imagine driving up efficiency, reaching out to a global audience, and watching your profit margins rise. Sounds exciting, right? Let's dive in and explore the ten dynamic advantages a B2B eCommerce website can offer to turbocharge your business.
Expand your reach
In the digital age, a physical location is no longer a constraint. A B2B eCommerce website allows your business to reach out to potential customers and partners across the globe, creating a vast marketplace that surpasses geographical boundaries. This opens up opportunities for businesses to reach more customers, and grow sales. From offering international shipping to providing localised customer experiences, businesses can now provide services to customers all over the world.
Boost efficiency
The potential for streamlining operations and increasing efficiency with eCommerce is enormous. By leveraging technology, businesses can automate tedious processes, allowing them to focus on more important tasks, such as customer relations and marketing.
eCommerce platforms can integrate with other software, including accounting and customer relationship management (CRM) tools, plus real-time ERP integration, facilitating a seamless operation from order processing to customer service. Businesses can even generate custom reports and track key metrics like sales and customer satisfaction, providing valuable insights into customer needs and preferences.
eCommerce empowers businesses to devise sophisticated systems for monitoring inventory, managing orders, and fine-tuning shipping procedures. This becomes incredibly potent when paired with custom automation solutions, such as the one we at Rixxo developed for a client.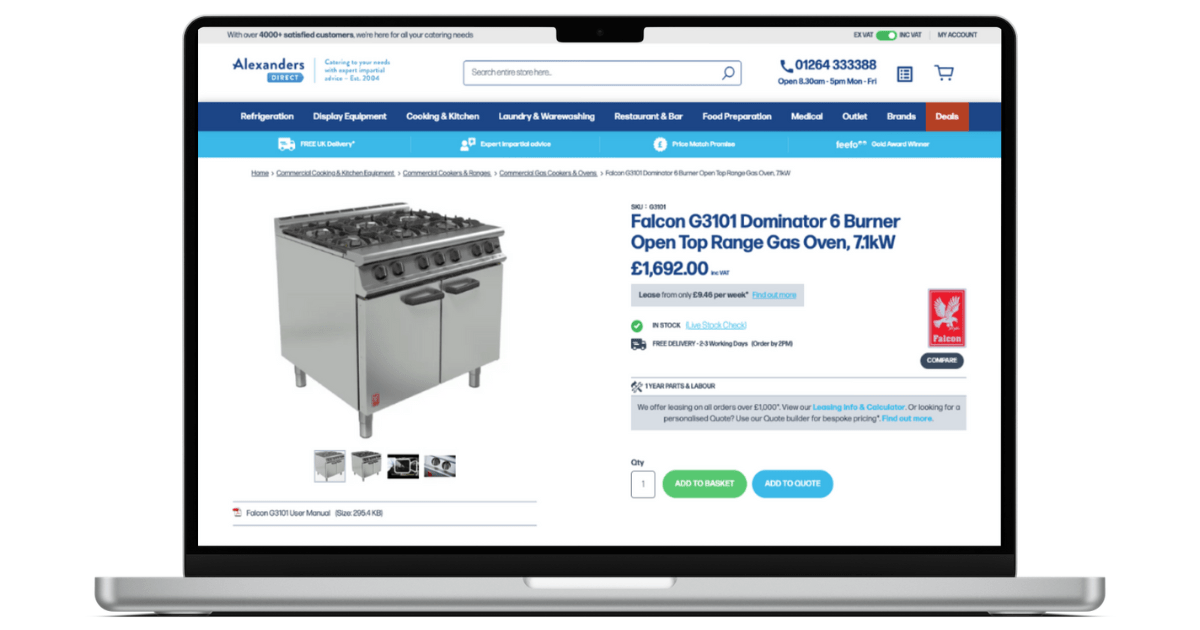 Automating processes: a case study
We created a leasing calculator that instantly provides lease costs based on user input. This tool enhances the customer experience and automates a time-consuming manual task, saving our client both time and resources.
Such automated processes not only cut overhead costs but also enable rapid responses to customer inquiries and orders, slashing wait times. For instance, the leasing calculator we designed expedited the decision-making process for customers while freeing up our client's resources. Ultimately, the efficiency gains and operational streamlining facilitated by eCommerce allow businesses to devote more energy to what truly matters – running their business and exceeding customer expectations.
Elevate the shopping experience: data & personalisation in eCommerce
The art of personalisation has completely revolutionised the way businesses interact with their customers. Through personalisation, businesses are able to better understand their customers and create tailored experiences that elevate the customer experience. From personalised product search and tailored content experiences to automated up-selling and cross-selling, personalisation offers a wealth of opportunities to enhance the customer journey.
Technological advancements have enabled businesses to leverage data and analytical tools to design personalised experiences that are tailored to each customer. For instance, customers can search for products based on their preferences, such as size, colour, and material. Businesses can also deliver hyper-targeted ads and offers to customers, which are more likely to be relevant and engaging.
Content experiences can be tailored to each customer's interests. This can include customised emails, newsletters, product recommendations, and more. Automated up-selling and cross-selling can also be used to suggest complementary products to entice shoppers to add to their shopping carts.
Reduce costs
Online business delivers a distinct cost advantage compared to traditional retail, bypassing costs like physical store space and its maintenance, and often needing fewer employees, cutting overheads. These savings allow eCommerce businesses to price their goods and services more competitively. They can also capitalise on more affordable online advertising and automated processes for order handling and shipping, further reducing costs. Overall, the economic efficiencies offered by eCommerce support higher profits and business growth.
Round-the-clock availability
The advantages of a round-the-clock operational website are clear: customers can shop anytime, anywhere, and purchases can be made without delay. Customers need not worry about store opening or closing hours, but can instead browse and purchase items at their own convenience. This offers the customer greater control and flexibility when making purchases, increasing the likelihood of a successful transaction.
Also, a round-the-clock operational website opens up the possibility of international customers, allowing businesses to take advantage of the global reach of the internet. In addition, customers can be served in any language, no matter what country they are from.
Scale to the moon
One of the key benefits of eCommerce scalability is its automation capabilities. Automating processes such as order fulfilment, customer service, and inventory management can save businesses time and money, allowing them to focus on other important areas of their business. With the help of automation, businesses can more easily scale up and down and adjust their operations as needed.
In addition to automation, businesses are able to gain enhanced visibility of their operations. With increased visibility, businesses can monitor their performance and make necessary changes in order to stay competitive. This type of visibility also eliminates the need for manual processes, saving businesses time and money.
Amplify your brand & credibility
A digital marketing strategy amplifies your brand visibility. A well-designed and user-friendly website can enhance your brand's credibility and reputation, helping to attract new customers and retain existing ones.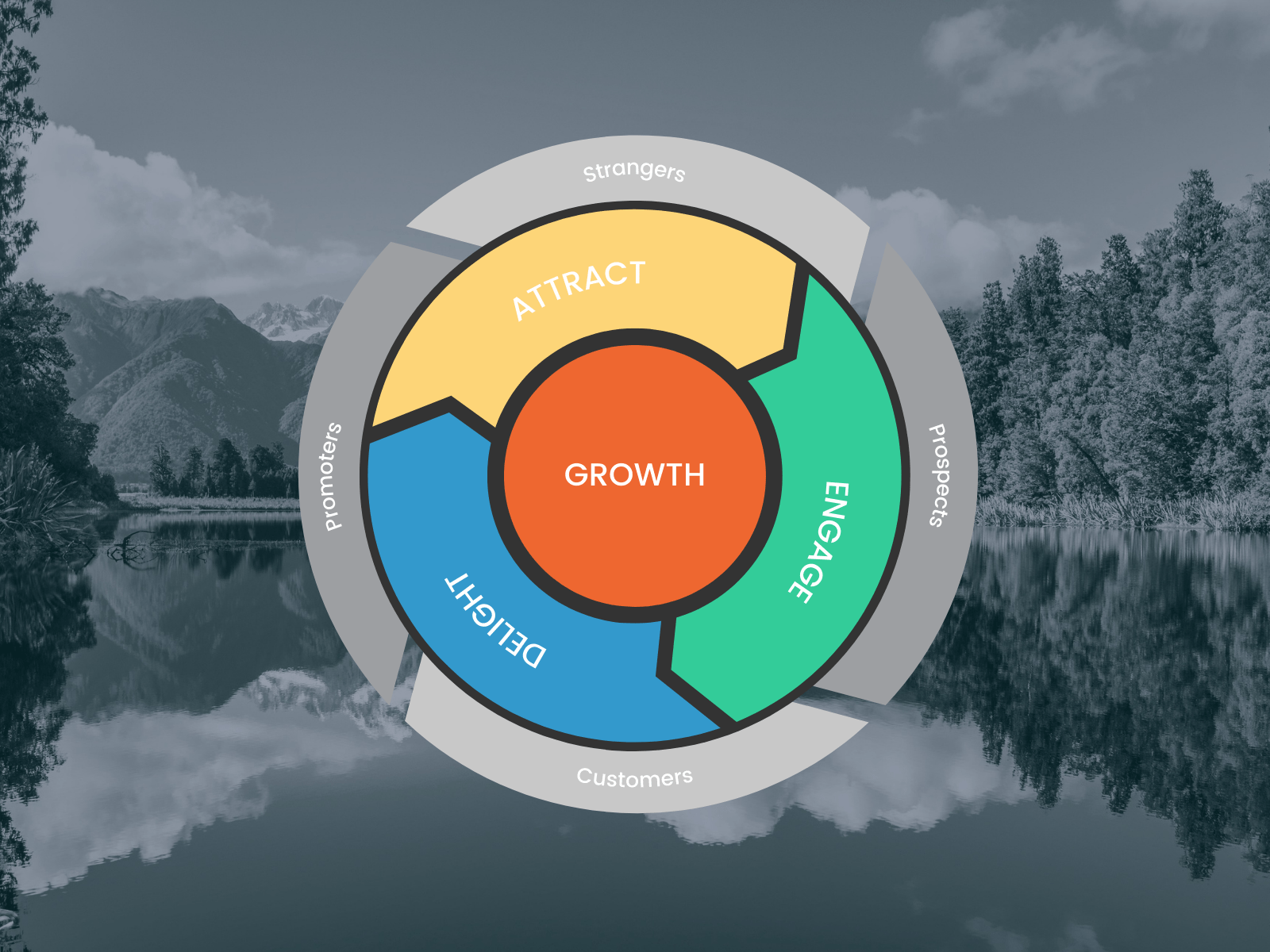 The eCommerce era has brought massive opportunities for businesses to amplify their brand. Companies are leveraging digital marketing strategies such as social media marketing, SEO optimisation, content marketing, and influencer marketing to increase visibility and reach.
Boosting customer loyalty: An unexpected benefit of B2B eCommerce
Loyalty isn't just about creating repeat customers, it's about transforming customers into brand advocates who are excited about your products or services and willingly promote your brand. B2B eCommerce platforms can play an unexpectedly large role in cultivating such customer loyalty.
The 'how' of this equation lies in the myriad of features a well-structured eCommerce platform can offer. For instance, implementing a personalised shopping experience is a powerful way to nurture customer loyalty. Just as Netflix suggests shows you may like based on your viewing history, B2B eCommerce platforms can offer tailored product recommendations based on a customer's purchase history or browsing behaviour. Such attention to detail makes customers feel valued, leading to a more positive overall shopping experience.
Order history tracking, another feature typical of many eCommerce platforms, makes repeat ordering a breeze, enhancing the customer experience and encouraging repeat purchases. Additionally, B2B businesses can offer loyalty programs with incentives like discounts or exclusive deals to reward frequent purchases, which can be easily managed and tracked through an eCommerce platform.
The 'why' is simple: loyal customers are a business's best asset. Not only do they continue to purchase and bring in revenue, but they often become brand ambassadors, spreading positive word-of-mouth and attracting new customers. In essence, by enhancing the customer experience, B2B eCommerce platforms help businesses create a cycle of loyalty that boosts both their customer base and their bottom line.
So while the move to eCommerce may be primarily driven by the potential for increased reach and efficiency, the capacity to strengthen customer loyalty is a compelling added advantage that cannot be ignored.
The bottom line: How an eCommerce website can increase your sales & boost growth
All of the above benefits contribute to the main advantage of having a B2B eCommerce site: which is increased sales and revenue. By reaching a larger audience, providing a superior customer experience, and utilising data-driven insights, businesses can boost their bottom line like never before.
On its own, eCommerce has the power to create a strong foundation for business growth and success. When integrated with other facets of a business, such as customer service and brand visibility, it can create incredible opportunities for progress. By understanding the intricacies of eCommerce and how it contributes to business growth, businesses can take advantage of the full potential of the technology.
The power of eCommerce lies in its ability to digitise various business processes, from customer service to marketing. By eliminating physical barriers to transactions, eCommerce can remove the need for manual activities, allowing businesses to focus on other areas.
When integrated with other elements of a business, such as customer service and visibility, eCommerce can create a powerful network of services that drive sales and create a strong customer base.
Furthermore, eCommerce can be used to streamline processes and automate certain tasks. By automating customer service, businesses can reduce the amount of time spent on manual tasks and focus on creating a greater customer experience.
Harnessing the eCommerce advantage for B2B: A recap
The potential of eCommerce is undeniable and the benefits to any business are significant. With the right strategy and tools, businesses can transform their digital presence and maximise the growth potential of their online presence.
A customised B2B eCommerce website not only serves as an efficient platform for customers to purchase goods and services but also allows businesses to control their brand identity and create unique experiences. Optimising the website for a better user experience is key to improving customer loyalty.
Developing an effective digital marketing strategy can help businesses reach out to the right customers and convert them into leads.
In the digital era, businesses can leverage the internet's power to revolutionise their operations and tap into a global market. Embarking on an eCommerce journey can unlock enormous growth potential and pave the way for expansion.
That's where working with a B2B eCommerce agency such as Rixxo comes in. As experts in eCommerce, we help businesses like yours navigate through this transformation and make informed decisions about their online presence. We take the time at the start of every project to get to know you and your business.
Depending on the nature and scale of your business, it might be advantageous to opt for a comprehensive eCommerce platform such as Magento (or Adobe Commerce). Such platforms offer a myriad of essential features like product catalogues, wholesale pricing, customer-specific pricing, payment processing, and shipping integrations, offering a complete package which simplifies operations and enhances customer experience.
Rixxo's expertise doesn't end here. We consider your current needs while also helping you plan for future growth. Our aim is to help you choose an eCommerce platform and build a strategy that not only suits your business today but also scales seamlessly as your business grows. Our promise is to work with you to ensure your eCommerce journey is a successful one.
Speak with us and you will understand why our clients trust us beyond being just an agency
We grow businesses pragmatically and with the utmost respect for budgets. We treat our clients businesses and budgets as if they were our own. Find out for yourself...