The Best B2B Payment Solutions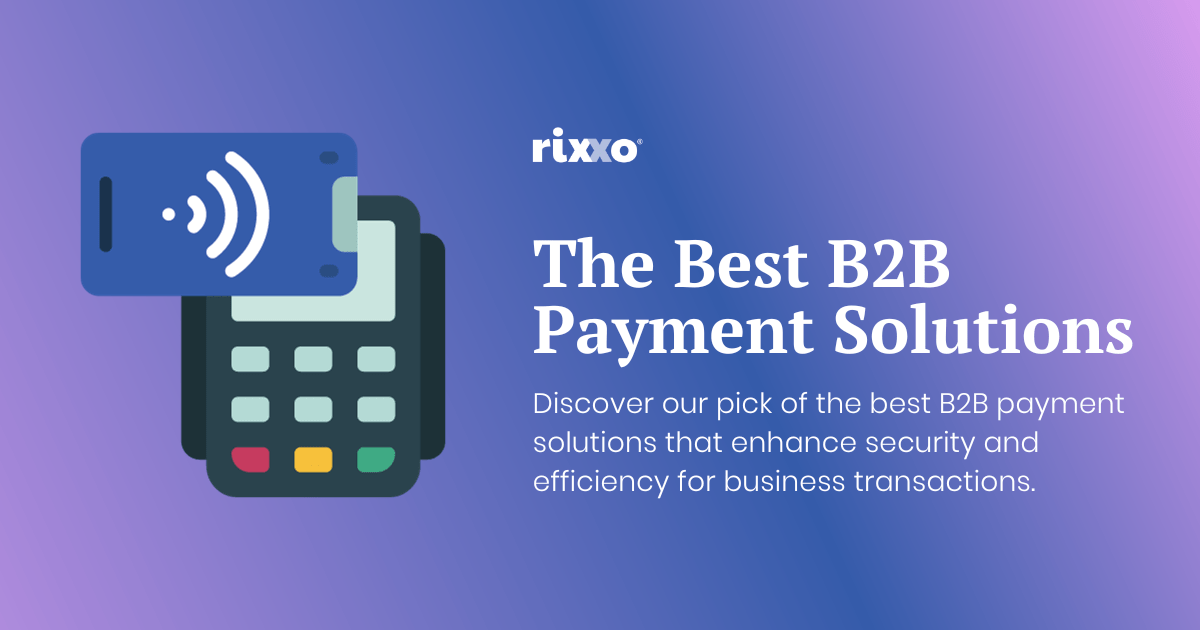 In today's fast-paced business environment, having efficient and reliable B2B payment solutions is essential for any organisation. But with so many options available, it can be overwhelming to choose the right one for your business. To help you in your decision-making process, we have curated a list of the top five B2B payment solutions that are revolutionising the way companies handle financial transactions.
Understanding B2B payment solutions
Before getting into the details of each solution, it's important to understand what B2B payment solutions are and why they matter for business success.
B2B payment solutions are specialised platforms or services designed to facilitate financial transactions between businesses. They streamline the payment process, making it faster, more secure, and more convenient for both buyers and suppliers.
These solutions have revolutionised the way B2B eCommerce businesses handle payments, offering a wide range of benefits. By automating payment processes, B2B payment solutions eliminate the need for manual intervention, reducing errors and saving valuable time.
Additionally, efficient B2B payments can help companies mitigate fraud risks and comply with industry regulations. Businesses need to have a payment solution that provides comprehensive security measures and supports compliance with data protection laws like PCI-DSS. By streamlining the payment process, companies can focus more on their core operations and strategic initiatives. This allows them to stay ahead of the competition and seize new opportunities in the market.
Key Features of B2B payment solutions
When selecting a B2B payment solution, there are several key features to consider. These include:
Integration capabilities: A good B2B payment solution should integrate with existing accounting systems, ERPs, and other financial software. This integration ensures a smooth flow of data and eliminates the need for manual data entry, reducing errors and saving time.
Multiple payment options: The ability to offer multiple payment methods, such as credit cards, ACH transfers, and virtual cards, can cater to diverse customer preferences and improve the overall payment experience. This flexibility allows businesses to accommodate their customers' needs and increase customer satisfaction.
Customisation options: Businesses have unique payment needs, so a flexible solution that allows customisation of payment workflows, branding, and invoice formatting is essential. This customisation ensures that the payment solution aligns with the company's branding and processes, providing a good experience for both the business and its customers.
Reporting and analytics: Access to real-time reporting and analytics can provide insights into payment trends, customer behaviour, and financial performance, helping businesses make data-driven decisions. These insights enable businesses to identify areas for improvement, optimise their payment processes, and enhance their overall financial performance.
Supplier onboarding: An efficient B2B payment solution should simplify the onboarding process for suppliers, making it easy for them to enrol and receive payments. Streamlining the supplier onboarding process reduces friction and delays, allowing businesses to establish strong relationships with their suppliers and ensure smooth transactions.
By considering these key features, businesses can select a B2B payment solution that aligns with their specific needs and goals. Implementing an efficient payment solution can significantly enhance the financial operations of a business, leading to improved cash flow, stronger relationships with customers and suppliers, and overall business growth.
The evolution of B2B payment solutions
In recent years, B2B payment solutions have evolved significantly, adapting to advancements in technology and changing business needs. Let's take a look at the two main categories of B2B payment methods.
Traditional B2B payment methods
Traditional B2B payment methods, such as cheques and bank transfers, have long been the go-to options for businesses. While they are widely accepted, they come with their fair share of challenges. Cheques are slow and expensive to process, and bank transfers often have high transaction fees and lengthy processing times.
However, these traditional methods are still prevalent in certain industries or regions where digital payments are less common. It's interesting to note that many B2B payment solutions now offer a digital cheque option, combining the convenience of digital payments with the familiarity of traditional cheques.
The rise of digital B2B payments
As technology advances, an increasing number of businesses are transitioning to digital B2B payment solutions. Digital payments offer numerous benefits, including speed, cost-effectiveness, and enhanced security. They enable businesses to send and receive payments instantly, reducing the time and effort spent on manual payment processing.
One popular form of digital B2B payments is Automated Clearing House (ACH) transfers. ACH transfers allow businesses to electronically transfer funds between bank accounts, providing a secure and efficient alternative to paper cheques and wire transfers.
Another emerging trend in B2B payments is the use of virtual cards. Virtual cards are temporary credit card numbers that can be used for single transactions, offering enhanced security and easier reconciliation for both buyers and suppliers.
Our top recommended B2B payment solutions
We're a B2B eCommerce agency with extensive experience in various payment solutions. In this article, we've condensed our years of expertise to bring you the top five trusted, secure, and efficient B2B payment solutions.
---
Mollie: Simplifying recurring and on-demand payments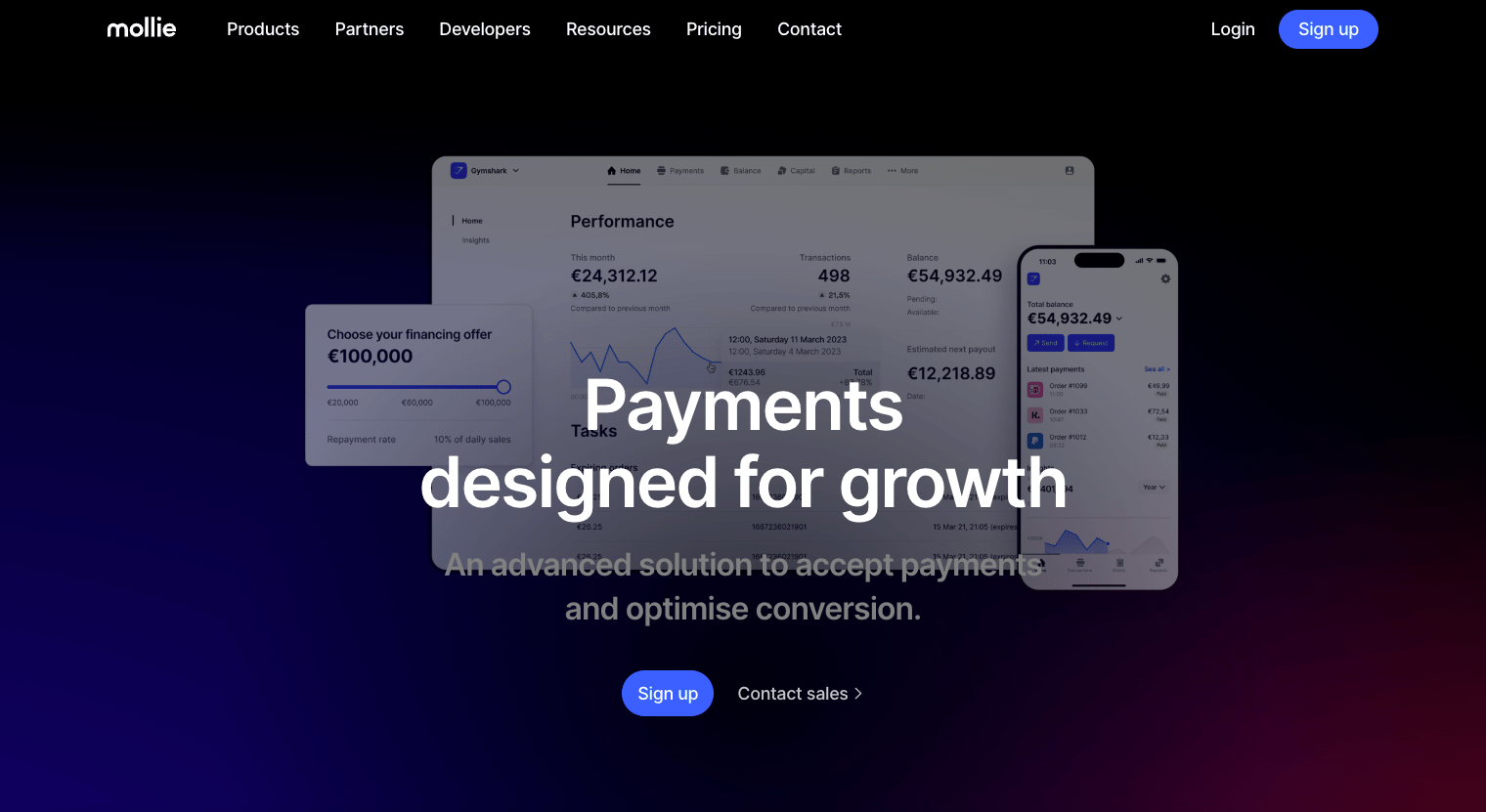 Mollie is not just facilitating one-time transactions; it excels at recurring billing and subscriptions, too. With Mollie, businesses get a reliable solution for establishing revenue streams through subscription-based models.
Effortless recurring payments
Mollie's platform offers time-saving billing tools that simplify the management of recurring payments, providing the flexibility to create scalable subscription plans. Recognised as the #1 Recurring Payments Platform by Juniper Research, Mollie is poised to lead the market with its comprehensive solution.
Smooth customer experience
By integrating Europe's most popular payment methods, Mollie ensures customers enjoy a frictionless payment process, contributing to higher satisfaction and retention rates.
Flexible payment plans
Mollie empowers businesses to tailor their recurring payment strategies with ease, thanks to integrations and plugins or fully customised solutions, catering to a wide range of business models from food delivery to digital media.
Powerful dashboard for revenue management
Businesses can leverage the Mollie dashboard to oversee their billing, access detailed data and reports, and seamlessly connect payments with their eCommerce platform, CRM, ERP, and other systems. This centralisation makes it easier to manage billing, track performance, and integrate with existing business infrastructure.
Customisable payment requests
Mollie also offers the capability to create and send customised payment requests directly from the dashboard or through an API. This flexibility ensures that businesses can maintain full control over their payment requests, providing a tailored experience that aligns with the brand and customer expectations.
Global and local payment support
With support for all major global and local payment methods, Mollie ensures that customers can choose their preferred way to pay, enhancing the convenience of transactions worldwide.
Multi-user access
Mollie's solutions are designed to facilitate teamwork, allowing multiple team members within an organisation to create and distribute payment requests, fostering collaboration and efficiency.
Uncompromised security
Security is a cornerstone of Mollie's offerings. Adhering to strict security policies, every transaction processed through Mollie is fully secured, offering peace of mind to businesses and their customers alike.
Conclusion
Mollie stands out as a versatile B2B payment solution that simplifies both recurring and on-demand payments. Its user-friendly platform, combined with powerful features for subscription management and payment requests, makes it an ideal partner for businesses aiming to enhance their payment systems and drive consistent revenue growth.
---
GoCardless: Making regular payments easy with direct debit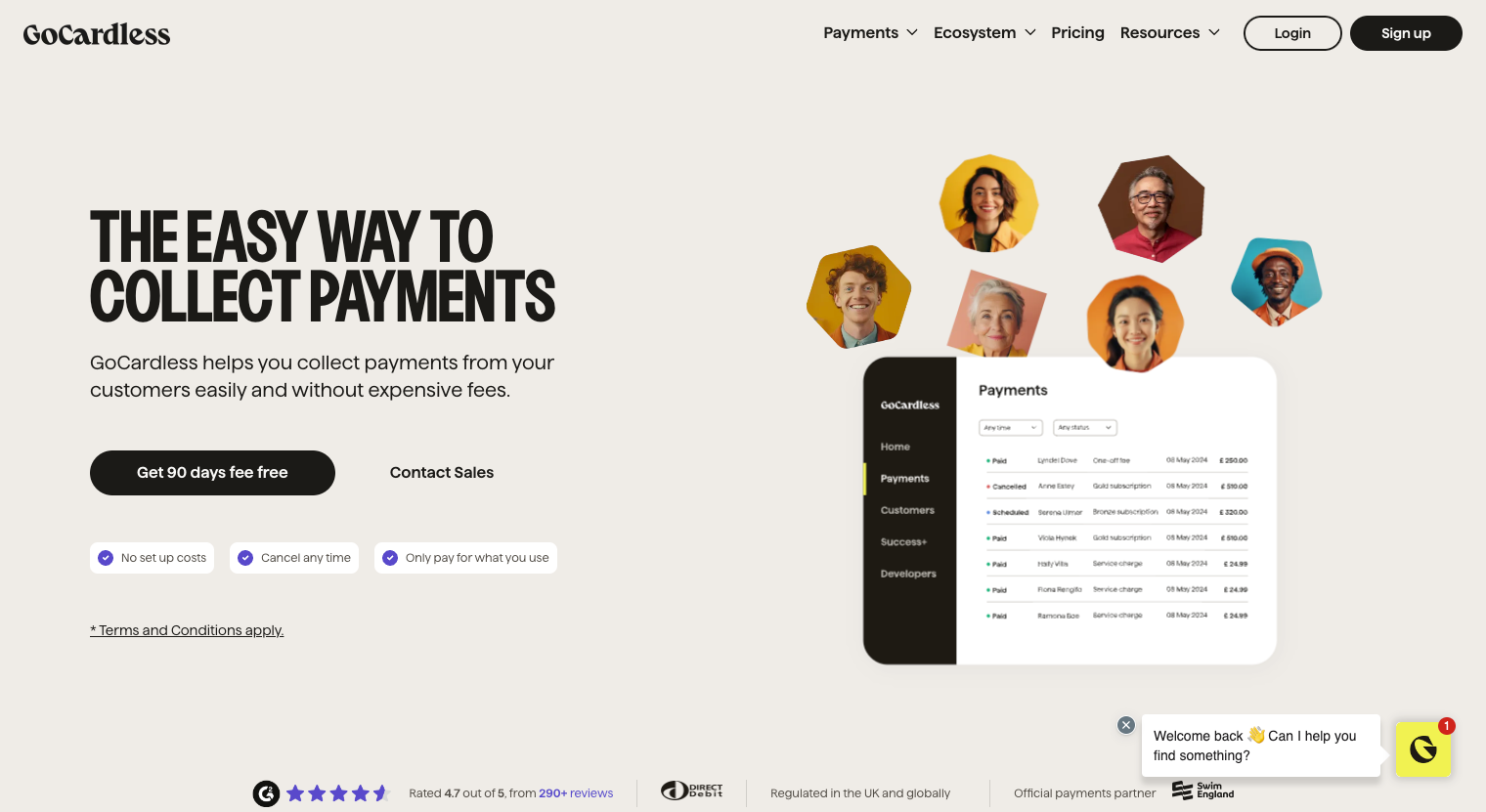 In the business world today, finding a trustworthy and low-cost way to handle regular payments is a big deal. GoCardless is becoming a popular choice in this area, offering a platform that uses direct debit t's bank accounts.
GoCardless is all about helping businesses automate their billing process, meaning they get paid on time, every time, without the fuss. This service isn't just for subscriptions or instalments; it can even handle repeated donations, showing it can adapt to different needs.
Recurring payments
GoCardless is a master of handling regular payments, offering businesses a system that keeps the cash flowing in without the need for constant check-ups.
Direct debit
Using direct debit, GoCardless offers a safe and trusted way for customers to make payments, building trust and making transactions smooth.
Global reach
Businesses can go worldwide with GoCardless, reaching customers in over 35 countries, and growing their customer base globally.
Fraud prevention
GoCardless takes safety seriously, using tools to stop fraud and keep businesses' money safe.
Easy integration
Businesses find it easy to add GoCardless to their existing systems, like accounting software and online shops, making it simpler to manage money.
Conclusion
GoCardless is the helper businesses need for secure and straightforward regular payment handling. It takes away the headache of failed payments by automatically trying again, and it offers help any time of the day or night. For businesses aiming to simplify their payment process and reach more customers, GoCardless is a smart choice.
---
Trustly: Leading the charge in open banking payments
Trustly is reshaping the payment landscape with its innovative Open Banking solutions, making account-to-account payments more convenient and secure than ever. As an outright leader in this space, Trustly provides the world's largest bank network, offering businesses and their customers seamless transaction experiences.
Products tailored for business efficiency
Trustly's suite of products is engineered for peak business performance. Its Payouts feature is the epitome of efficiency, designed for sectors that require rapid transactions. Deposits are optimised for high conversion, ensuring that funds are received promptly and securely.
Revolutionary payment models
Trustly stands out with its model that links data between the consumer, merchant, and bank for every transaction. This triangulation means that each checkout is personalised and adapts to individual users, paving the way for a truly digital payment experience.
Open banking pioneers
Since its inception in 2008, Trustly has been at the forefront of Open Banking, offering solutions that process payments on an unmatched scale. With over 12,000 connected banks and services across 33 countries, Trustly is a powerhouse in facilitating cross-border transactions.
Cutting-edge technology and integration
Trustly's platform is built on proprietary technology that reliably handles high volumes across multiple platforms. Merchants benefit from a full-service solution with a straightforward integration process, enabling collection, reconciliation, and settlement in any European currency.
Powering public and private sectors
The acquisition of Ecospend positions Trustly as a key player not only in the private sector but also in pioneering payments in the public sector, bringing the advantages of Open Banking to UK citizens.
Security at the forefront
With a focus on security, Trustly uses the highest encryption standards and maintains GDPR-compliant servers. In Europe, it operates under PSD2 regulations, while in the UK, it's authorised under the Financial Conduct Authority's Temporary Permissions Regime, ensuring compliance and data safety.
Comprehensive solutions for various industries
Trustly's payment solutions are built for any business model, from e-commerce and high-value purchases to travel and ride-hailing services. It also excels in managing recurring payments, offering error-free mandate creation for Direct Debits that are optimised for schemes like BACS, SEPA, Autogiro, and more.
Streamlining direct debits and payouts
With Trustly, businesses can automate and personalise Direct Debit payment plans, effortlessly combining mandate creation with one-off instant payments. For payouts, Trustly's network ensures instant transactions in any European currency, bolstering customer satisfaction with swift access to funds.
Conclusion
Trustly is revolutionising payments for business growth, offering a range of services that cater to the needs of various industries. Its commitment to security, coupled with its expansive network and Open Banking capabilities, makes Trustly an essential partner for businesses looking to streamline their payment processes and embrace the digital future.
---
Adyen: End-to-end payments, data and financial management in a single solution.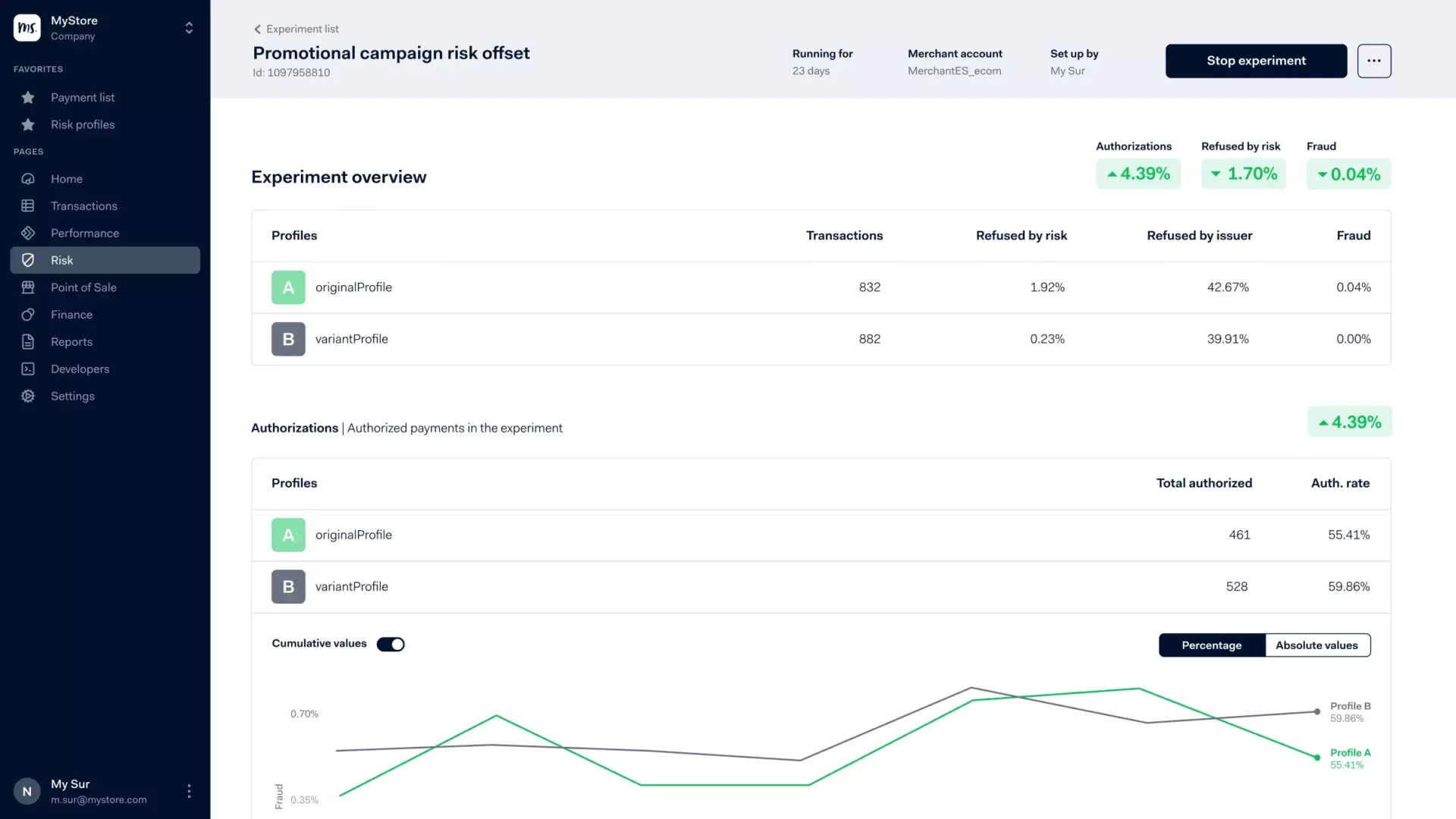 Adyen is carving out a dominant space in the universal payment solutions landscape, employing its revolutionary platform to streamline payment processes for businesses worldwide.
Originated in 2006 by a team with a vision to revolutionise payment solutions, Adyen is headquartered in Amsterdam, the Netherlands. It commands a formidable presence with over 2,500 employees, servicing clients in over 200 countries and territories, including some of the top brands globally such as Spotify, Uber, and Netflix.
Adyen's comprehensive payment platform is designed to aid businesses in easily accepting payments online, in-store, and through mobile devices. The platform stands as a beacon of security and efficiency, being PCI DSS Level 1 compliant, and offering an array of fraud prevention tools to protect businesses from potential revenue losses.
Global accessibility
Operating in over 200 countries, Adyen ensures that businesses can reach customers wherever they are, expanding market accessibility substantially.
Multiple payment options
Adyen supports an impressive array of over 550 payment methods including popular ones such as credit cards, debit cards, PayPal, and Alipay, providing unparalleled flexibility in payment options to cater to a diverse customer base.
Risk management and fraud prevention
With built-in fraud prevention tools, Adyen helps protect business revenues effectively. Additionally, it offers insights into customer behaviours, aiding businesses in making informed decisions.
24/7 Customer support
Businesses can rely on round-the-clock customer support to resolve issues and answer queries, ensuring smooth operations at all times.
Conclusion
Adyen stands as a robust and versatile B2B payment solution, helping businesses flourish by providing comprehensive payment solutions that are secure, flexible, and globally accessible. With a rich feature set backed by continuous support, it is designed to support business growth, making it a commendable option for companies aiming to enhance their payment processing systems.
---
Stripe: Revolutionising B2B payments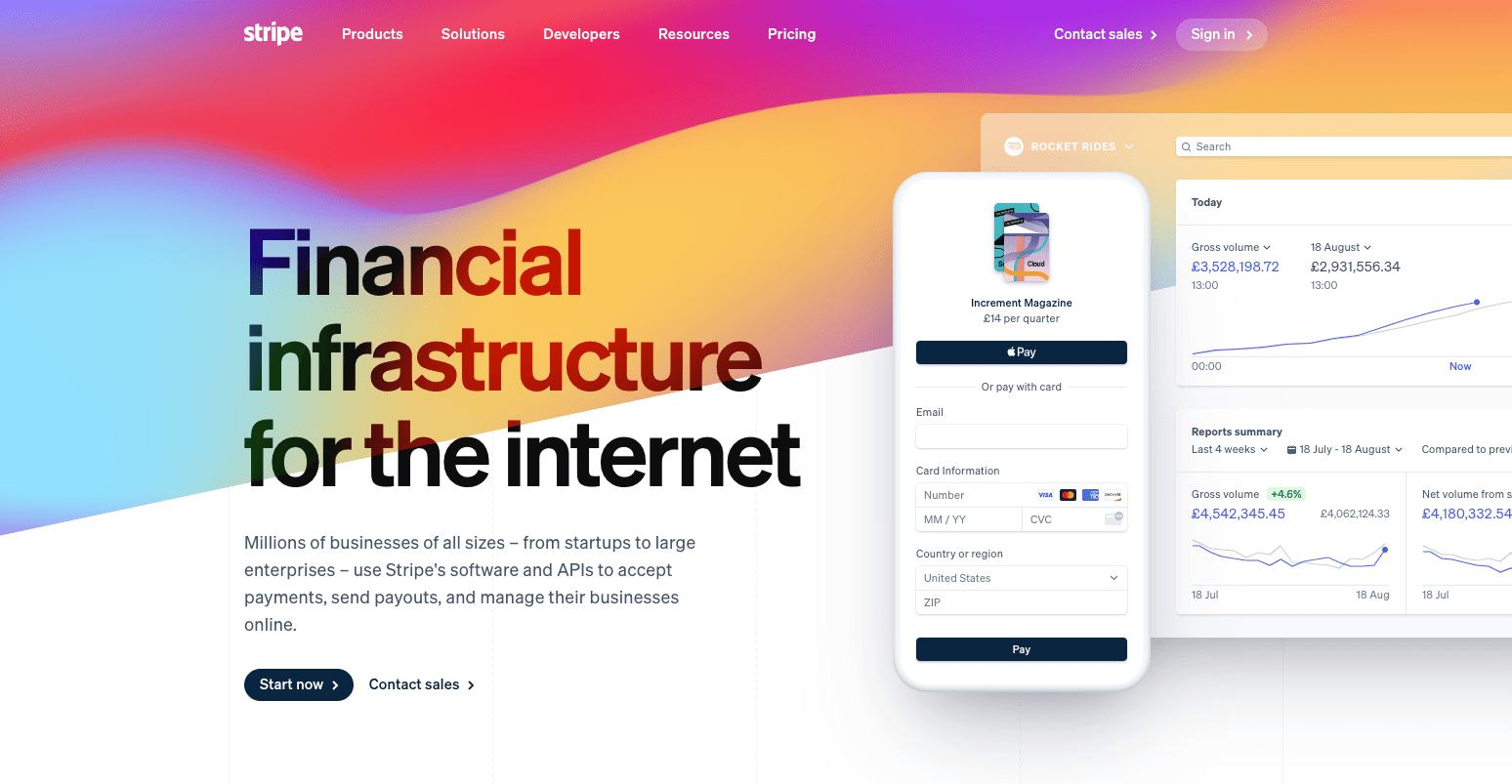 In the world of B2B transactions, where a massive $120 trillion is exchanged annually, Stripe is providing smart solutions to old problems.
Stripe's products and services help businesses accept payments from customers around the world, including credit cards, debit cards, and alternative payment methods such as PayPal and Apple Pay.
Stripe was founded in 2009 by brothers John and Patrick Collison, and is headquartered in San Francisco, California. The company has over 7,000 employees and is available in over 40 countries. Stripe's customers include some of the world's leading businesses, such as Shopify, Lyft, and Zoom.
Here's why Stripe stands out for B2B:
Simplified invoicing
Traditionally, most invoices are sent on paper, causing delays and errors. Stripe tackles this by offering online invoices with easy electronic payment options, ensuring quicker payments that adhere to local rules and regulations.
Efficient payment methods
Stripe has reworked bank transfers to make them more efficient and less prone to errors, saving businesses precious time and effort. This has been a boon for companies, with many cutting their manual work on payments by half.
Easy financial connections
Setting up recurring payments can be a hassle. Stripe simplifies this with Financial Connections, making it easy for businesses to link directly to their customer's bank accounts, a feature preferred by over 50% of B2B companies surveyed.
Future-ready platform
Stripe is not just solving today's problems but is preparing businesses for a future with easier, digital B2B payments. They are continuously working towards creating a platform that promises higher earnings and smooth transactions, which is critical for economic growth.
Conclusion
Stripe is a modern solution in the B2B payment landscape, offering features that simplify transactions and increase efficiency. By addressing the challenges of traditional payment methods, it is setting businesses on a path to faster, simpler, and more profitable operations.
Stripe | Payment Processing Platform for the Internet
---
Opayo: Simple and secure B2B payments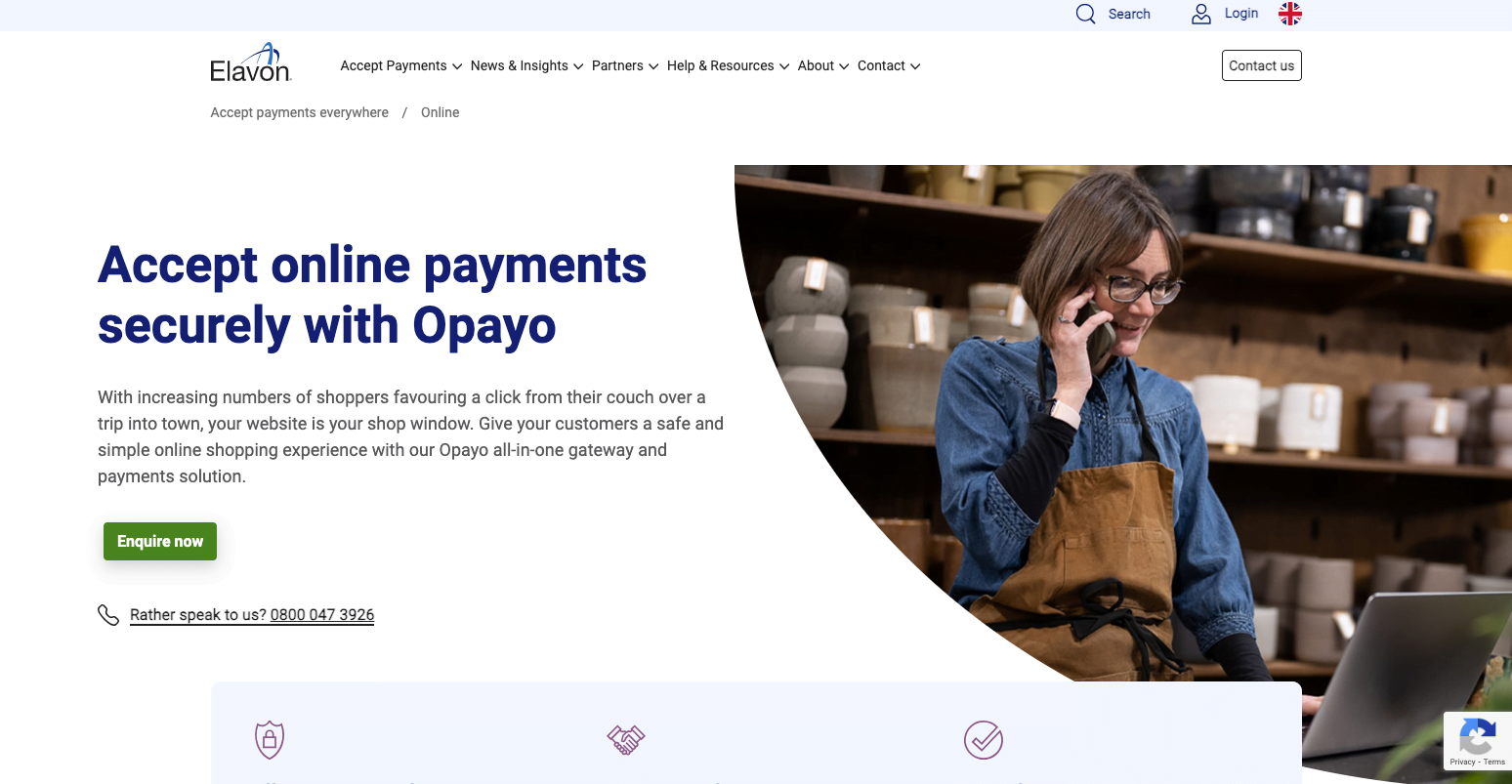 Opayo (formerly Sage Pay) is a well-established product from Elevon that helps other businesses handle money from customers safely and quickly. Started in 1984 in Atlanta, Georgia, it now works in over 30 countries. They can deal with many kinds of payment methods including credit cards, debit cards, and even PayPal and Apple Pay.
Opayo places a strong focus on keeping transactions safe from fraud and understanding customer behaviours to make smart decisions. Big names like Walmart and Starbucks trust Opayo with their payment needs. They follow the strictest security rules and can easily work with different online selling platforms and accounting tools, making them a handy choice for all kinds of businesses, including B2B.
Everything in one place
Get a merchant account and payment gateway together, making the setup and management straightforward.
Safe transactions
Every payment is checked thoroughly to prevent fraud, ensuring a secure transaction environment.
Simple payment options
Opayo gives you various ways to let your customers pay, including through secure links sent by email, text, or social media, and a service for taking payments over the phone.
Customer-friendly features
Let your international customers pay in their currency and offer regular customers easy recurring payment options, creating a comfortable shopping experience for all.
Easy to set up
Choose how your payment page looks and works, with easy tools to help you set up a system that fits your business perfectly.
Helpful customer service
Users praise the customer support from Opayo and Elavon, highlighting their helpful approach to solving problems and keeping payment systems running smoothly.
Conclusion
Opayo is a versatile solution for businesses needing a simple, secure payment system. With great customer service and options to suit every business, it's a reliable choice for any modern company. It not only makes transactions easy and safe but also offers features that make shopping a breeze for your customers, helping you build trust and loyalty with them.
---
Hokodo: Innovating B2B payments with buy now, pay later solutions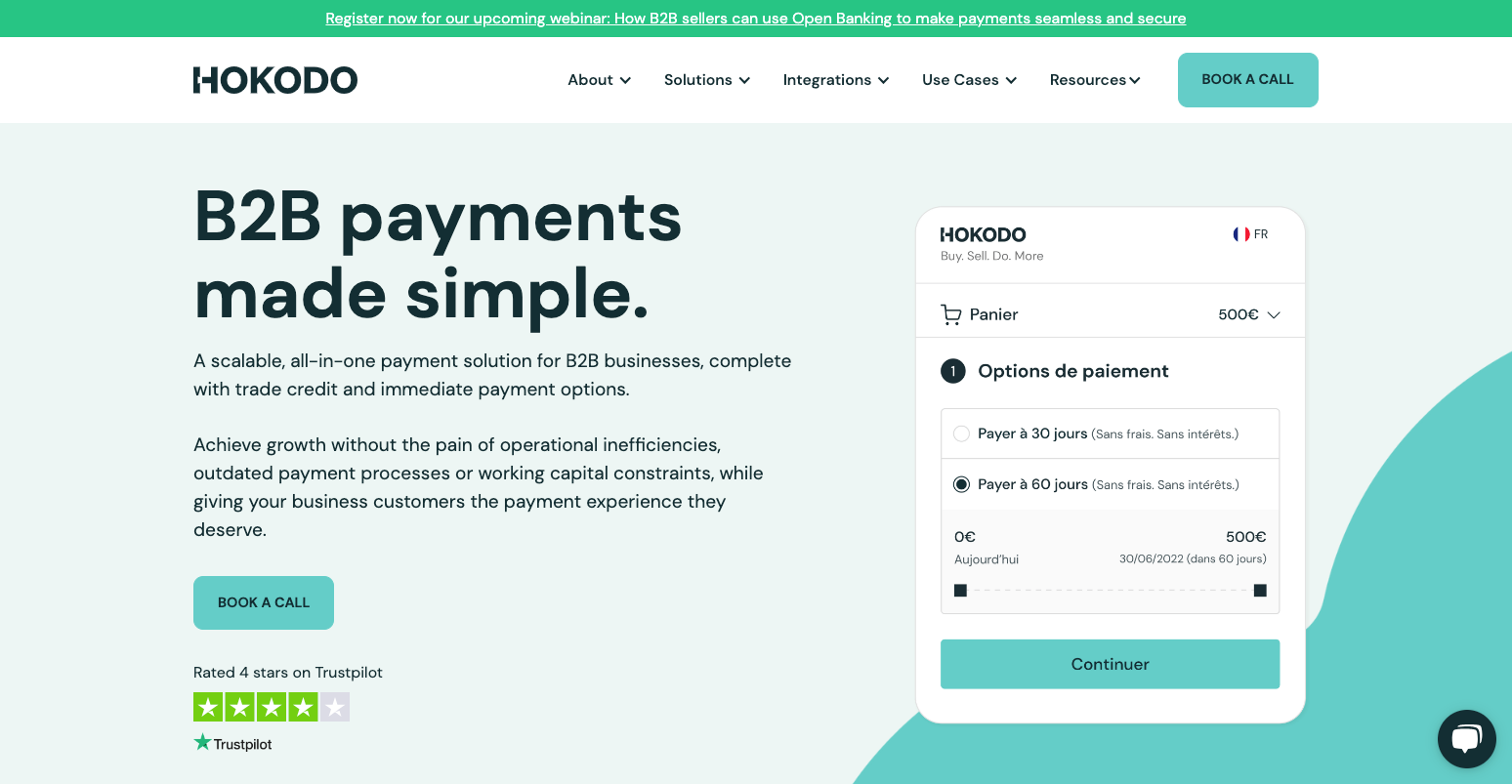 Founded in 2018, London-based startup Hokodo has carved out a niche in the B2B payment solution sector.
Hokodo's B2B Buy Now, Pay Later (BNPL) service is helping businesses worldwide streamline the purchasing process while fostering business growth and boosting customer loyalty.
Hokodo's "trade credit as a service" platform empowers businesses to offer credit terms to their clients, including those who are newly incepted or have restricted credit histories.
Instant credit decisions
Hokodo's BNPL platform excels in offering immediate credit decisions, removing the traditional delays associated with manual approvals, thereby speeding up business processes and facilitating quicker transactions.
Flexible payment terms
Businesses can choose from a range of payment terms that best align with their clients' preferences, fostering enhanced business relationships and establishing a foundation of trust.
Secure payments
Hokodo prioritises safety above all, implementing robust measures to shield customer data and forestall fraudulent activities, thus sustaining a secure and trustworthy business atmosphere.
Scalability
Catering to a spectrum of businesses, from startups to large-scale enterprises, Hokodo's platform is adeptly designed to scale according to diverse business demands, showcasing unparalleled adaptability.
Easy integration with accounting software
To champion operational efficiency, Hokodo ensures its platform seamlessly meshes with existing accounting software, promising smooth transitions and hassle-free business operations.
Conclusion
More than just a platform, Hokodo serves as a reliable ally in business growth, fostering enriching customer relationships, and widening market reach. Companies aiming to revitalise their B2B payment infrastructure should consider Hokodo as a promising avenue towards a future punctuated with simplified, secure, and growth-facilitating business transactions.
Hokodo | B2B Buy Now, Pay Later & Digital Trade Credit
---
Trust Payments: Making safe and easy payments possible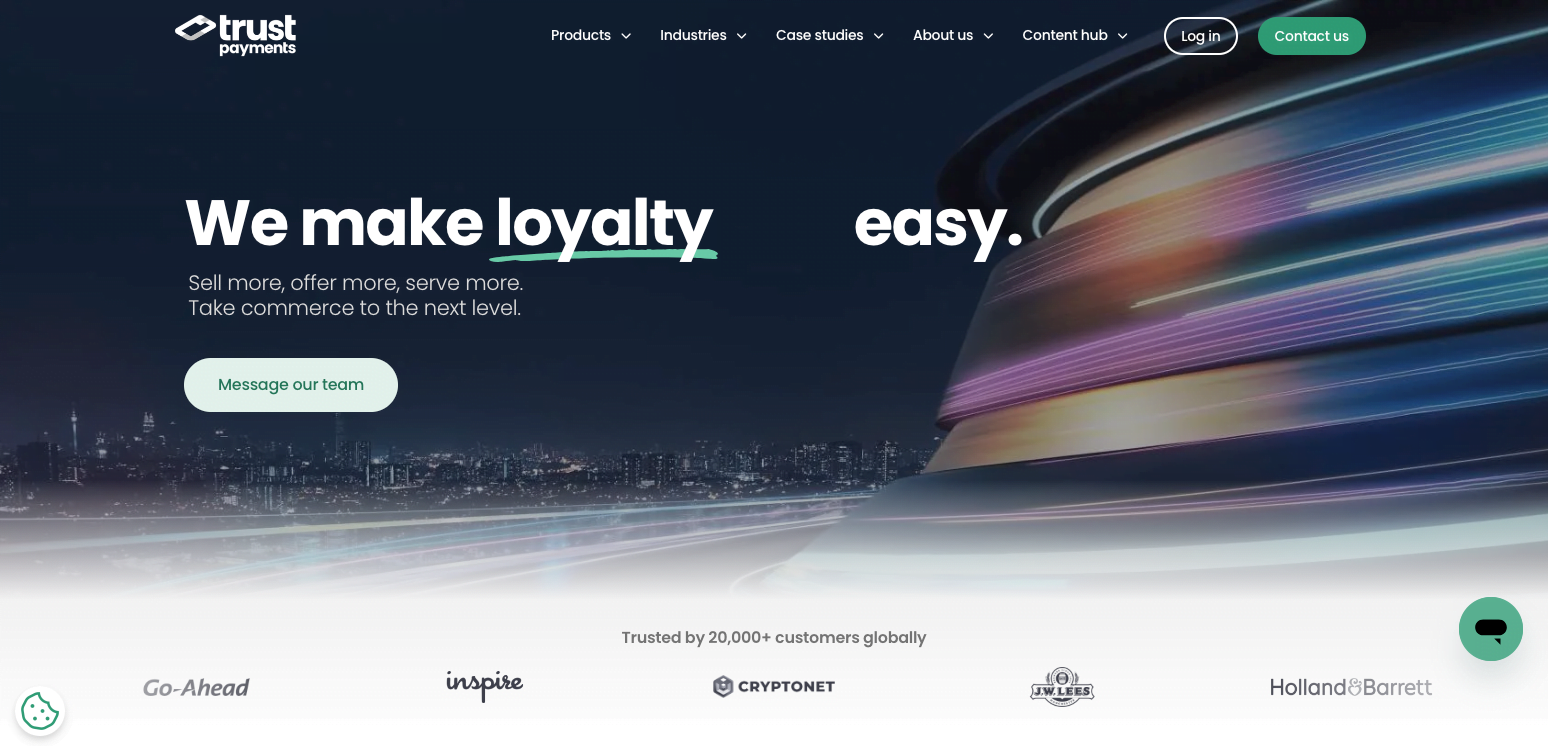 Companies need payment solutions that are safe, easy to use, and reliable. Trust Payments is quickly becoming a big name in the B2B payment solutions sector, using its high-tech system to bring secure payment and customer service technologies to businesses all around the world.
Trust Payments started in 2018 and is a key part of the well-known Paysafe Group. The company is all about helping businesses make safe and quick payments all over the world. Based in London, UK, it works in over 170 countries, offering a helpful hand to businesses to reach customers everywhere.
Trust Payments offers a one-stop solution that includes many services like payment processing and keeping payments safe from fraud. They use technology to help businesses understand what their customers want, helping them build strong relationships and make smart plans.
Reaching customers everywhere
Businesses using Trust Payments can easily take payments from customers all around the world, removing the limits of borders and making trading easy and smooth.
Lots of payment options
The company supports more than 150 ways to pay, including credit and debit cards. This means businesses can give their customers lots of choices when it comes to paying.
Keeping payments safe
Trust Payments uses many tools to stop fraud, helping businesses keep their money safe and secure.
Managing risks
The company helps businesses make wise choices about their payment plans by giving them useful information about customer habits.
Playing nice with other platforms
Trust Payments can work together with many other systems, like e-commerce platforms and accounting software, making business operations run smoothly without any hitches.
Conclusion
Being a part of the big and respected Paysafe Group and meeting the highest safety standards, Trust Payments offers not just safe but also easy-to-use payment solutions that work globally. For businesses looking to reach customers everywhere with a trusted partner to handle payment processes, Trust Payments is a great choice.
---
Choosing the right B2B payment solution for your business
Now that you have an overview of our preferred B2B payment solutions, it's time to consider how best to choose the right one for your business. From the unique needs of your business to the technical skills needed for successful integration, let's look into the details of what you need to know.
Factors to consider
When selecting a B2B payment solution, consider the following factors:
Business size and complexity: Choose a solution that aligns with the scale and complexity of your business operations.
Integration capabilities: Ensure that the solution seamlessly integrates with your existing systems to avoid disruptions and streamline workflows.
Customisation options: Determine if the solution offers the flexibility to customise payment workflows, branding, and invoice formatting according to your business needs.
Security and compliance: Look for solutions that provide strong security measures and compliance with industry regulations to protect your financial data.
Cost and value: Assess the overall cost and value of the solution, considering factors such as pricing, features, scalability, and customer support.
Technical skills for integrating B2B payment solutions
To integrate sophisticated payment solutions into a B2B eCommerce business, a range of technical skills are required to ensure a seamless and secure experience. Here are some of the essential technical skills:
Programming and Development Skills:

API Integration: Proficiency in working with APIs to integrate payment platforms into existing systems, with knowledge in languages such as PHP being essential.
Web Development: Skills in web development to ensure payment gateways are integrated seamlessly into online platforms, with expertise in HTML, CSS, and JavaScript.

Database Management:

SQL: Familiarity with SQL or other database management languages to handle data efficiently and securely.

Cybersecurity:

Security Protocols: Understanding of security protocols to ensure secure transactions and protection of sensitive data.
PCI DSS Compliance: Awareness and knowledge to maintain compliance with payment card industry standards, as seen with Adyen's PCI DSS Level 1 compliance.

Software Skills:

Accounting Software: Knowledge of various accounting software for integration with platforms.
eCommerce Platforms: Familiarity with different B2B eCommerce platforms, for example: Magento, Shopify or BigCommerce, to enable easy integration with services.

Testing Skills:

QA Testing: Skills in quality assurance (QA) testing to identify and fix bugs before full implementation.
Performance Testing: Ability to conduct performance testing to ensure the system can handle the operational load efficiently.

Project Management:

Agile Management: Skills in agile project management to oversee the implementation process efficiently, ensuring timely and within-budget completion.
Documentation: Creating detailed documentation to guide users and maintain a proper record of the integration process.

Analytics:

Data Analytics: Proficiency in data analytics to utilise reporting and analytics features of platforms like Adyen for business insights.
If you don't have the necessary in-house technical expertise and you want to fast-track a successful project, consider hiring a B2B eCommerce agency
Assessing your business needs
To make an informed decision, assess your business needs and payment requirements. Consider factors such as your target market, customer preferences, payment volume, and existing pain points in your payment processes. By understanding your unique business needs, you can choose a B2B payment solution that addresses your challenges and supports your growth objectives.
Remember, finding the right B2B payment solution is crucial for optimising your financial operations, strengthening business relationships, and driving growth. Evaluate your options carefully, considering the features, benefits, and considerations discussed in this article, and choose a solution that best suits your business requirements.
Speak with us and you will understand why our clients trust us beyond being just an agency
We grow businesses pragmatically and with the utmost respect for budgets. We treat our clients businesses and budgets as if they were our own. Find out for yourself...